Victoria Beckham Posh Lipstick Shade Review and Swatches
We Tried All of Victoria Beckham's Posh Lipstick Shades, and Our Inner Spice Girl Is Thriving
As POPSUGAR editors, we independently select and write about stuff we love and think you'll like too. POPSUGAR has affiliate and advertising partnerships so we get revenue from sharing this content and from your purchase.
Victoria Beckham has been synonymous with nude lipstick since her Posh Spice days. And whilst fashion designer Victoria goes for a softer, rosier-beige than Spice Girl Victoria's brown-tinged one in the early 2000s, the fact remains that Beckham has never strayed from her beloved neutral lip colour. It's the reason that Beckham's first lipstick launch — a project two years in the making (basically since she came out with her own makeup line) — is an homage to the fashion designer's favourite lip colour. Surprisingly, it also an homage to her former pop star ego, something she's tried to distance herself from in the second phase of her career.
"I was given the name Posh in 1996 over lunch with Peter Loraine of Top of The Pops Magazine and the rest of the Spice Girls. I can't say it would've been my first choice, but I ultimately grew into it on my own terms. I was young and shy, and being Posh helped me find my style and confidence, and my voice," Beckham shared on her Instagram feed in anticipation of the launch along with the hashtag #PoshIsBack. "After the Spice Girls, I distanced myself from the nickname because it had unwavering momentum of its own. I wanted to find my direction. Now, years later, I look back that formative time with appreciation. Posh forever changed the course of my life, opening the doors for me to go after my dreams."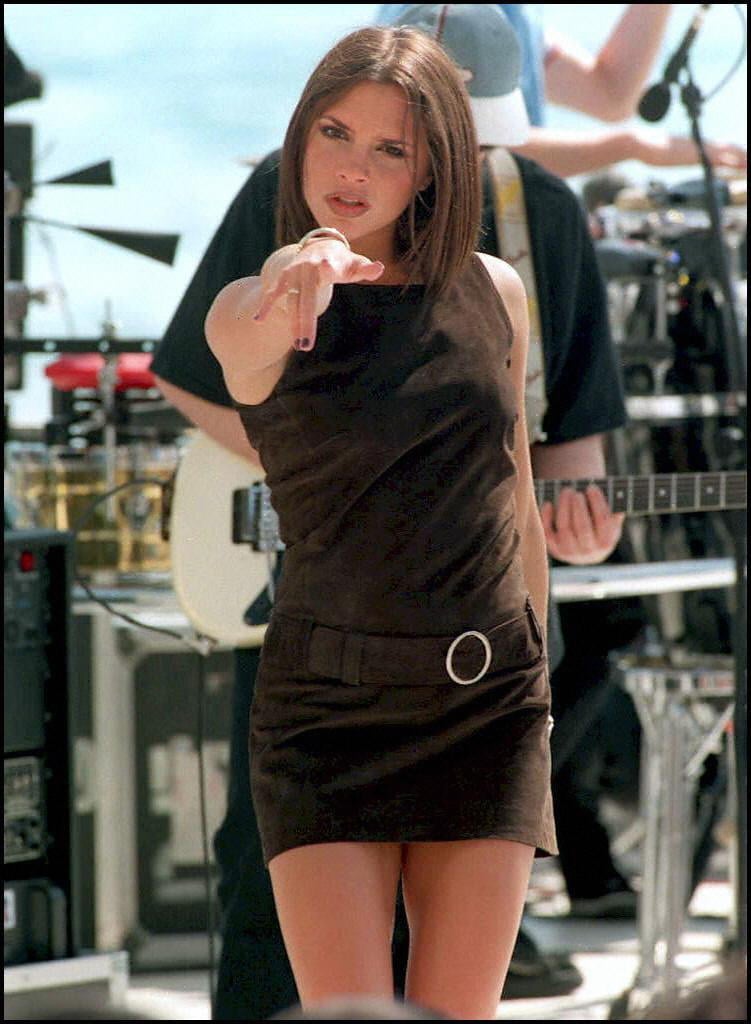 Fully embracing her alter ego in 2020, the nine-piece lipstick range is aptly named Posh Lipstick. "I always new [the lipstick] was going to be called Posh and the shade I was is Posh ... Spice," she Beckham said in a video for The Sunday Times Style. "I always like to have humour in what I'm doing, and when we were throwing names around ... I just thought Posh would just be the perfect wink at the past, very honest with who I am. It just felt like the right thing to do."
Speaking of humour, the shades also feature cheeky names like "Pixi" and "Fringe", perhaps referencing Beckham's short and stripey asymmetrical haircut from the early 2000s, and "Pout", which, along with her little black dress, was Beckham's signature facial expression from her Spice Girl years. Our guesses may not be far off, either. According to Beckham, all of the shades — seven nudes and two statement shades of plum and red — are inspired by her memories of the past. "It is deeply personal for me, because lipstick has always given me confidence when I needed it and extra spice when I already had it," she said via press release. "Each shade is inspired by a specific memory, and whilst the moments may have been my own, the energy and emotion is shared by us all.
In true Posh fashion, seven of the nine shades in the collection are some form of nude. "I wanted to create the perfect nude lipstick for everyone, no matter your skin tone," she told Vogue last month. In addition to the ultra-flattering taupes, rosy-beiges, and espresso colours, she's also added two statement hues in the mix: a deep plum and a bold, cherry red into the mix that are surprisingly really, really good shades that somehow make your skin look livelier and your eyes look brighter when you put them on.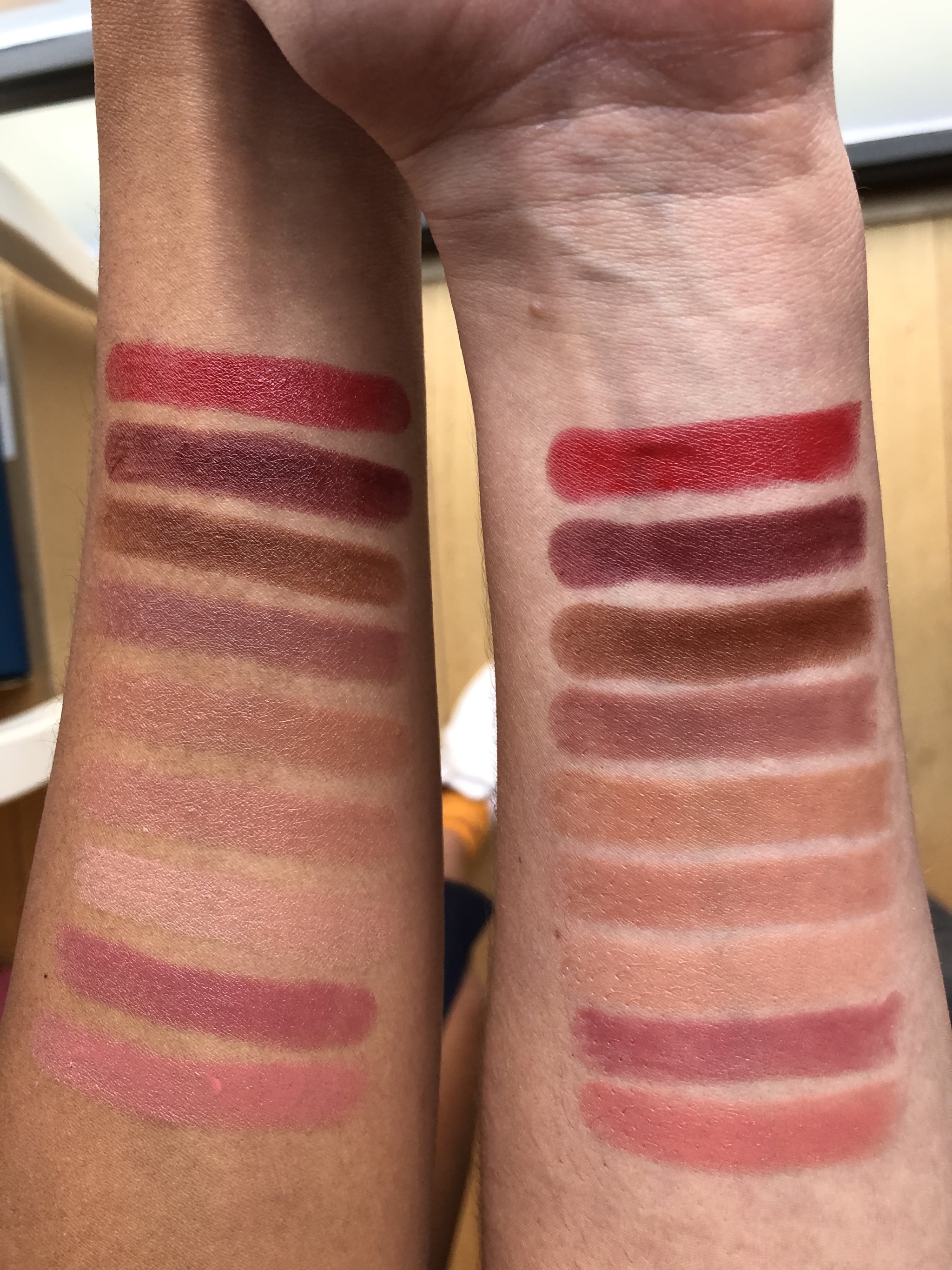 From top to bottom: Pop, Play, Fringe, Pose, Spice, Girl, Pixi, Sway, Pout.
The delay in launching a lipstick range was due to Beckham's insistence on a clean formula that was free of commonly found (and questionable) materials like petroleum-derived waxes and emollients, animal byproducts such as lanolin, added fragrance, and unfriendly preservatives. Instead, the Posh Lipstick formula is made from a blend of rose flower, candelilla, carnauba, and sunflower waxes, as well as rosehip, coconut, and avocado oils, the combination of which give the lipstick its glossy finish and incredibly cushy, comfortable texture.
And when I saw comfortable, I mean it. The Posh lipsticks are probably some of the most comfortable lipsticks I've put on my lips. But while they are super creamy, they don't move around all over your mouth and slide past your lip lines. I even wore one underneath mask when taking the tube, and while some of the pigment transferred onto the mask (it's not a longwearing formula after all), I was shocked to find how much stayed put and that lipstick hadn't spread all over my chin or underneath my nose.
We could sit here and the list all of the shades for you, with a vivid description of each colour, but it's probably better to see what the shades look like for yourself. Above are swatches of each lipstick, on both my arm and the arm of POPSUGAR assistant editor Kara Kia. Then keep reading to see what each Posh Lipstick shade looks like on lips, as well as shop them all now that they've officially launched on victoriabeckhambeauty.com