Is It Safe to Get a Piercing Amid the Coronavirus?
Piercing Studios Have Been Given the Green Light to Reopen in England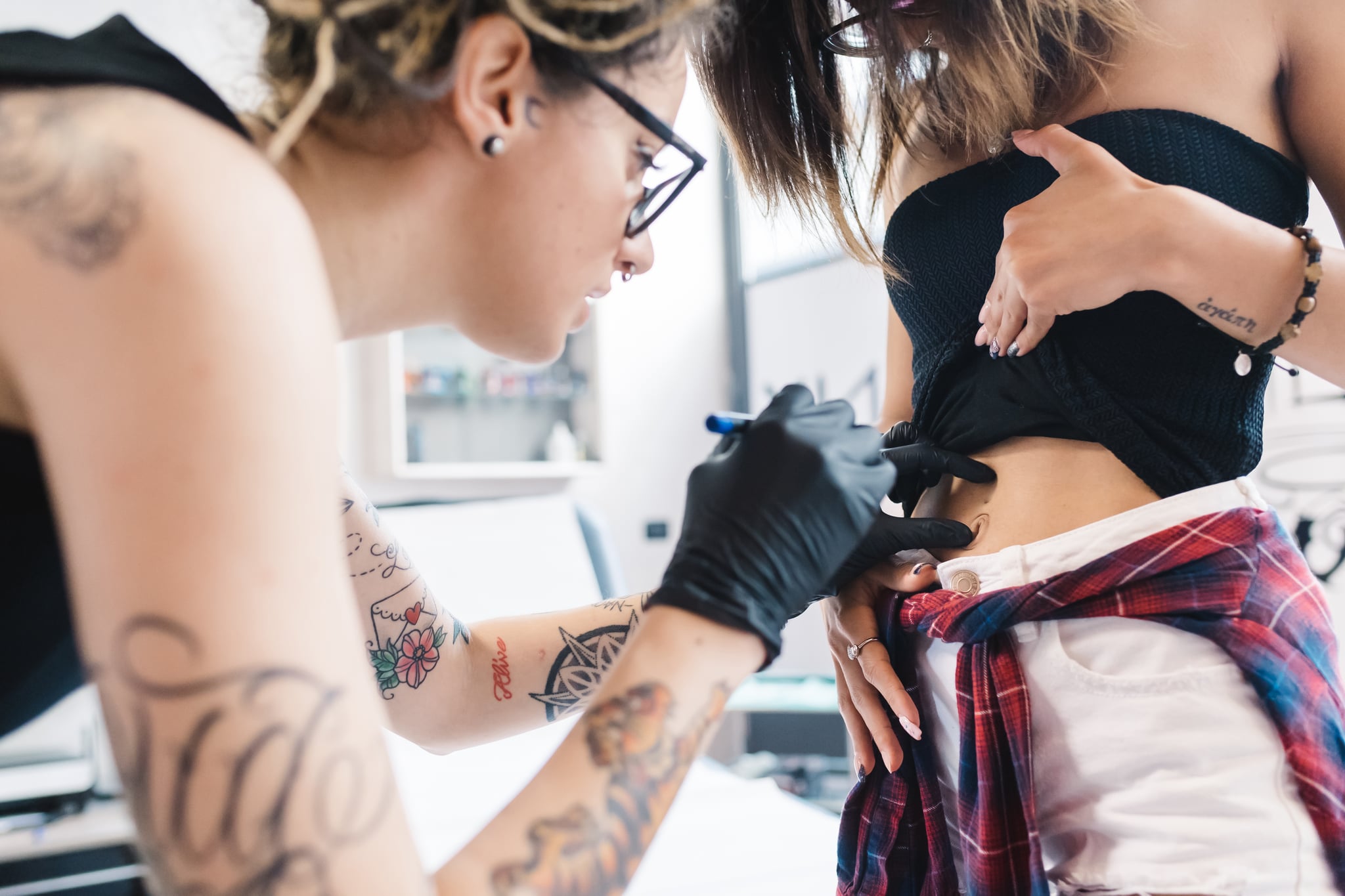 Update (9 July, 2020): After Boris Johnson originally announced on 23 June that piercing studios were not able to reopen along with hairdressers on 4 July, culture secretary, Oliver Dowden, has finally given piercing and tattoo parlours some good news. As of Monday 13 July, piercing studios (along with beauty salons and spas) have been given the green light to reopen, provided they have the correct hygiene measures in place. During his televised speech, Dowden did note that "some restrictions" would be in place with regards to tattoo parlours and beauty salons reopening. These restrictions essentially includes any facial treatments, which means facial piercings — like the nose and tongue — will not yet be allowed.
As for other parts of the UK, in Scotland, hairdressers and barbers can return on 15 July and beauty salons (including piercing studios) can return on 22 July, with no mention of restrictions. In Wales, beauty salons and tattoo and piercing studios can reopen as of 27 July. Both hair and beauty salons in Northern Ireland were opened from 6 July.
Original post (4 June, 2020): Now that the UK had made plans to slowly reopen the economy after shutting down to curb the spread of the novel coronavirus (COVID-19), many of you might still be wondering if it's safe to continue seeking out the same beauty treatments we did before. As hair and nail salons may start to resume business from 4th July (with restrictions in place), and spas begin to lay out plans to switch up their operations in order to ensure customer safety once they're given the green light to reopen, we're still left to question whether other facilities like tattoo parlours and piercing studios are safe to visit upon reopening as well.
As of right now, piercing studios remain closed across the UK. Although the UK has begun to relax a number of lockdown rules with some nonessential shops and businesses given the all clear to open as of 1st June (with coming on 15th June), many services the beauty industry provides falls under the "personal care" category, which is addressed in the third phase of the government's Plan to Rebuild. As part of phase three, a provisional date of 4th July (at the earliest) has been set for beauty salons to begin reopening in England, provided the government is confident that the infection rate of COVID-19 has decreased sufficiently.
So, if you're wondering if it's safe to get a piercing any time soon, the short answer is no — at least, not yet.
"There's really no way around being [that] close to one another when you're getting pierced."
"I don't think it's safe to get pierced right now even though the lock down is easing up," Ashley Abrego, piercing manager at Studs, told POPSUGAR. "Getting pierced is something that's more up close and personal, and there's really no way around being [that] close to one another when you're getting pierced."
Abrego went on to mention that getting a piercing is much like going through a "tiny medical procedure," and since an open wound is involved, there's an increased risk of exposing both the client and the piercer to an infectious disease.
"It's safer to hold off on getting pierced until after this slows down to make sure you're getting a safe and healthy piercing experience," she said. "A safe and healthy piercing done in a clean, thoughtful environment done by a piercer who cares about your safety and well-being will always heal better."
As for what to expect when studios do begin to reopen, they'll be operating with heightened health and safety regulations with stricter policies. As with nail and hair salons, personal protective equipment (PPE) will be a requirement for both staff and clients, including face coverings and gloves. It is likely you'll be asked to take a number of hygiene steps when entering the studio (including hand sanitising), and you might also be asked to visit the studio alone and on time to ensure there's enough room in the studios to maintain social distancing rules. Piercing stations will be spaced two metres apart and may also be divided with protective screens. It is encouraged from industry professionals that walk-in appointments are put on hold and operating on an appointment-only basis to ensure acknowledgment of studio policies and that social distancing can be maintained.
You may be tempted to go out and finally get that cartilage piercing as soon as the restrictions start to ease, but some things are worth waiting for — and this is one of them.
— Additional reporting by Tori Crowther
POPSUGAR aims to give you the most accurate and up-to-date information about the coronavirus, but details and recommendations about this pandemic may have changed since publication. For the latest information on COVID-19, please check out resources from the WHO and the NHS.
Image Source: Getty / Jennifer Friel Moore