12 Totally Random Facts We Just Learned About Mila Kunis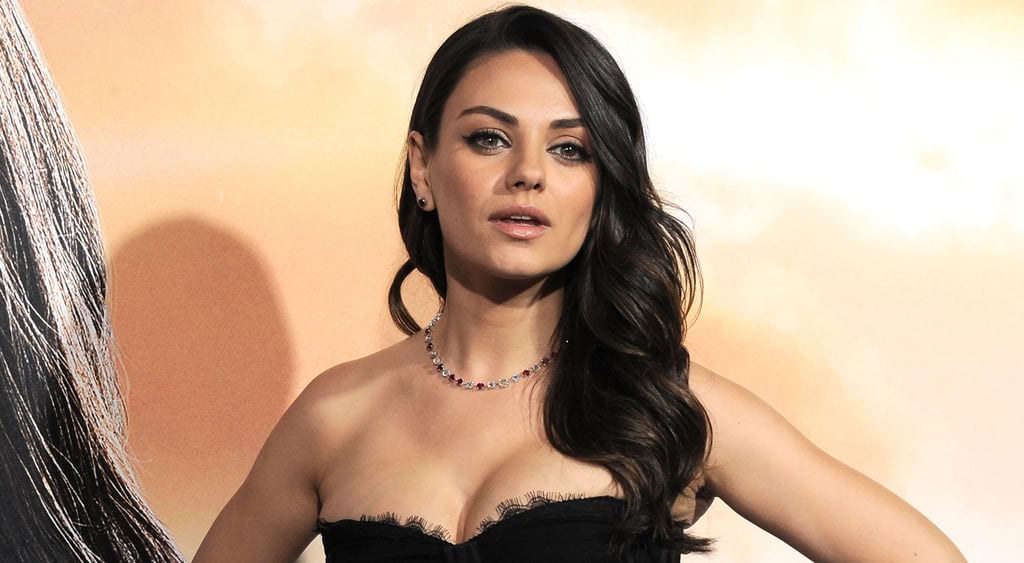 Mila Kunis hopped onto Reddit for an AMA on Thursday, answering questions on every subject from her favorite salsa, to making out with Natalie Portman, to the dreaminess of Channing Tatum. Mila is currently making promotional rounds for the release of Jupiter Ascending, which hits theaters this week. Outside of the film, though, Mila's life seems to be totally wound up in baby Wyatt, whom she just welcomed with Ashton Kutcher back in October. Just this week, she talked about the little one on The Ellen DeGeneres Show and discussed nappies with Jimmy Kimmel. Keep reading to see the best quotes from her Reddit AMA.
1. Natalie Portman has a very special connection to Ashton and Mila.
"She's a lovely kisser, very polite. But here's a little-known fact: there's one person in the world that both Ashton and I have kissed, and that's Natalie Portman."
2. She prefers Outback Steakhouse to Olive Garden.
When asked out on a date to Olive Garden, she said, "Mmm. I'm more of an Outback Steakhouse gal."
3. Channing Tatum is just as dreamy in person.
And she couldn't emphasize it enough: "JUST AS DREAMY. Just as dreamy, ladies. Just as dreamy."
4. Her favorite pizza is veggie pizza . . . or is it?
"I'm sorry, I genuinely love an all-veggie pizza. I don't love pepperoni, not a fan, and I don't like all-cheese. So for me, veggie or a short-rib pizza that a place near has that I love. But yea, sorry guys, that's my favourite. OH Wait, that's not true! I really like BBQ Chicken, but i know that's sacrilege. And I really like super-thin, burnt-burnt-burnt crust. Like extra crispy."
5. She used to be really into World of Warcraft.
"I have not played WOW in probably 5 years! Yes, I used to play. I played a LOT. I was in a guild, I led raids, I was a pretty badass mage. I had multiple characters. I was a frostmage, I think, by the time I stopped playing?"
6. She has random credits in Robot Chicken.
"Um, Sarah Michelle Gellar and myself are credited in ROBOT CHICKEN many, many times for doing things that do not exist. Seth is our best friend, and we made him do it."
7. She loves Sean Bean, and she's still upset about Game of Thrones season one.
"Sean Bean was great! Huge fan of Game of Thrones! So bummed Ned Stark got murdered! So happy to work with Ned Stark! He's the chillest person ever. He's like... just a normal British guy whom you can just shoot the sh*t with."
8. She speaks Russian to baby Wyatt.
"Yes! Absolutely. I speak Russian to the baby all the time. My parents speak Russian to the baby all the time. And Ashton's taking Russian lessons."
9. She has a really bizarre favourite cereal.
"CHEX. Chex Rice cereal. Yes, the most blandest cereal possible. I love cereal that tastes like cardboard. Yes, I know it's weird. My morning cereal is Chex, Almond Milk, and then I put in a bunch of berries - without fail!"
10. She totally has a favourite kind of salsa.
"The one that Ashton's mother makes."
11. She watches a ton of TV. Including The Bachelor.
"At the moment... I watch... well... it would be... WALKING DEAD, HOMELAND, Downton Abbey, Game of Thrones, and currently, I guess the only thing I have to watch is The Bachelor? But that's so depressing. It's the first season I'm ever watching it. But it's so addictive. I mean, it's unbelievably addicting. In all 15 seasons or so they've done this, I've never sat down to watch it. But now - oh my god, these women are crazy!"
12. Ashton smells how you think he'd smell.
"He smells like a man. A real man! But he smells like a man. He does not wear cologne. But he makes sure he showers. Never offending. He has a very good natural smell about him, yeah."