16 Bizarre and Ridiculous Things We Just Learned About Channing Tatum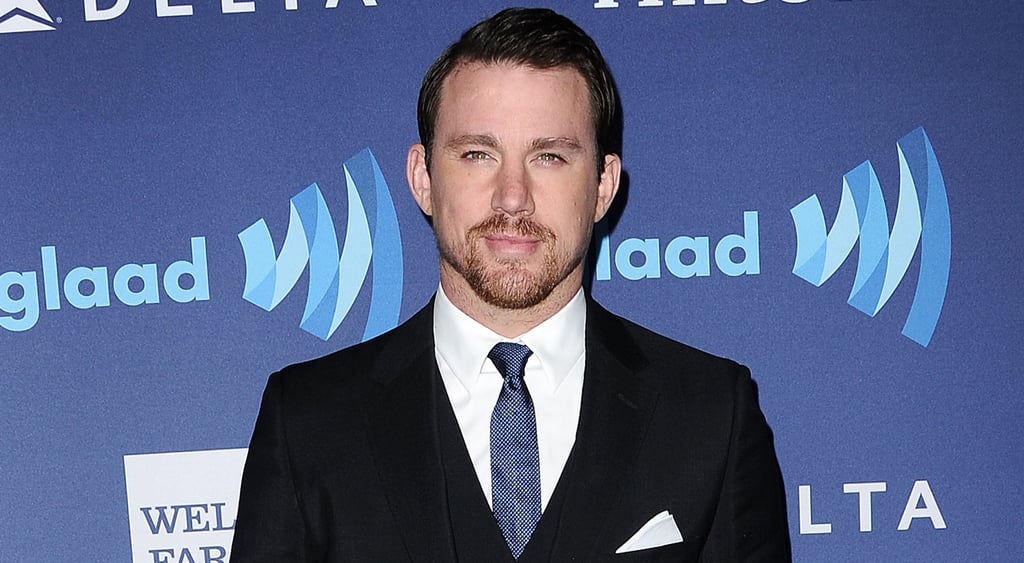 Channing Tatum conducted an AMA on Reddit this Wednesday, and he gave us so many hilarious quotes, we couldn't pick a favourite. Channing's promoting the hotly anticipated Magic Mike XXL, which he recently vowed would make cinematic history. The AMA also comes fresh off his surprise appearance at LA's Gay Pride Parade with Matt Bomer. We can't properly convey the sheer brilliance of all the quotes, so keep scrolling to see them for yourself.
1. His favourite sandwich is either really disgusting or totally amazing.
"It's very complicated. Bread, white. Peanut butter, not crunchy, creamy. Grape jelly, double portion, more than you think should actually fit on a piece of white bread. Bread. And then some Cheetos shoved in there, and then you're good to go."
2. His penis totally has a nickname.
"Gilbert."
3. He has a foolproof plan for the imminent zombie apocalypse.
"Crossbow, straight up, and I'd want an army of ninja chimpanzees that crush people all around me. Or I would just go to Sandra Bullock's house, as I'm sure she has all that stuff, because she's dope and kick-ass."
4. Even Channing gets lost in Matt Bomer's eyes.
"Abso-f*cking-lutely. No matter if you're a man, woman, cat, hamster, you will get lost in Matt Bomer's eyes. I don't know what they are made of — outside of dreams and rainbows and amazingness — but it truly doesn't matter. And when he sings. It's like God gave with both hands and then grew a third hand and graced him with more. He's crazy talented."
5. He's not sure he could take Joe Manganiello in a fight.
"It would be a messy fight. The light would probably bounce off of his pectoral muscles and blind me."
6. There's a pretty short story behind his daughter Everly

's name.
"The simple story is: my wife was driving down the street one day and heard it in her head. So, happy wife, happy life."
7. Yes, he totally has a favourite Disney character.
"I like the broom from Fantasia."
8. He spent quite a while typing that famous Sony email.
"I'm [not] sure exactly how long. I hit the 'h' and 'a' for a long time before I realised I could copy and paste. I'm not the most tech savvy person around, but it did become a lot easier and faster."
9. He doesn't go full frontal in Magic Mike XXL.
"I do not do full frontal but I can promise you when you're standing in front of a bunch of people in a very small thong it doesn't leave a lot to the imagination."
10. He has a strange superpower selection.
"I wish that I could make anyone at any point just happen to be naked. Not for the reasons that everyone thinks. Because people get really nice when they get naked. Like okay, 'I can't be an asshole.' People aren't assholes when they get naked (for the most part)."
11. If he could be one character on TV . . .
"it's really hard to not want to be Joffrey on Game of Thrones."
12. He knows exactly what to bring to a deserted island.
"How about a magical seashell that's always filled with bourbon. And I would like a magical palm tree that had a lot of shade with — instead of coconuts — there's just peanut [and] butter jelly sandwiches with Cheetos underneath. And my wife, [who] is always happy and possibly naked."
13. There is a finite number of times you should watch Step Up.
"I guess you need to see it as many times as it takes you to realise how bad my acting is in it. And fast forward to the dancing parts after that."
14. His pizza topping choice is surprisingly basic.
"I'm kinda boring. I just like peps. Pepperoni and cheese. I'm not a very adventurous eater. I like what I like and stick to it."
15. Same goes for ice cream.
"Cookie Dough. But then [again], you can put cookie dough on just about anything, and I would eat it."
16. He has the perfect remedy for a terrible day.
"Oh man. I love Pinterest. Swear to god. Just to not think about all the shit I have to do or what's going wrong, I just go and look at Pinterest. Or Flipboard."