2011 Critics Choice Awards Full List of Winners
Announcing the Winners of the Critics' Choice Awards!
And they're off! The award season race is officially underway with the announcement of last night's Critics' Choice Award winners. The list isn't all that surprising, and many critics' favourites, including Colin Firth and Natalie Portman, walked away with a trophy as expected. Inception actually won the most awards overall by sweeping the technical categories, but it looks like the film to beat come Oscar time is The Social Network. Not only was director David Fincher recognised for his work on the movie, but it also picked up the biggest award of the evening for best picture. Do you agree with its win? Matt Damon also took the stage for the Joel Siegel Award, while Quentin Tarantino was honoured with the first ever Music+Film Award.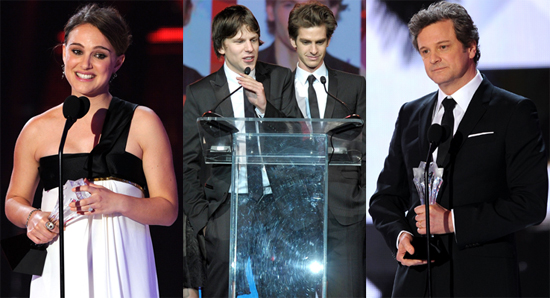 Overall, it was a fairly mundane evening, so here's hoping Sunday's Golden Globes are a little more exciting to watch. For now, take a look at the full rundown of Critics' Choice winners, and share your thoughts in the comments, when you read more.
BEST PICTURE
The Social Network
BEST ACTOR
Colin Firth, The King's Speech
BEST ACTRESS
Natalie Portman, Black Swan
BEST SUPPORTING ACTOR
Christian Bale, The Fighter
BEST SUPPORTING ACTRESS
Melissa Leo, The Fighter
BEST ACTING ENSEMBLE
The Fighter
BEST DIRECTOR
David Fincher, The Social Network
BEST ORIGINAL SCREENPLAY
David Seidler, The King's Speech
BEST ADAPTED SCREENPLAY
Aaron Sorkin, The Social Network
BEST ANIMATED FEATURE
Toy Story 3
BEST YOUNG ACTOR/ACTRESS (Under 21)
Hailee Steinfeld, True Grit
BEST ACTION MOVIE
Inception
BEST COMEDY MOVIE
Easy A
BEST PICTURE MADE FOR TELEVISION
The Pacific
BEST FOREIGN LANGUAGE FILM
The Girl With the Dragon Tattoo
BEST DOCUMENTARY FEATURE
Waiting For Superman
BEST SONG
"If I Rise" (Dido and AR Rahman), 127 Hours
BEST SCORE
Trent Reznor and Atticus Ross, The Social Network
BEST VISUAL EFFECTS
Inception
BEST CINEMATOGRAPHY
Wally Pfister, Inception
BEST COSTUME DESIGN
Colleen Atwood, Alice in Wonderland
BEST MAKEUP
Alice in Wonderland
BEST SOUND
Inception
BEST ART DIRECTION
Guy Hendrix Dyas, Larry Dias, and Doug Mowat, Inception
BEST EDITING
Lee Smith, Inception