2011 Independent Spirit Awards Full List of Winners 2011-02-27 02:00:55
Black Swan Leads the Winners of the 2011 Independent Spirit Awards!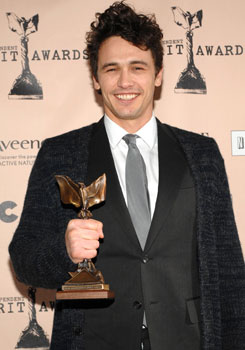 Before tonight's award season grand finale with the Oscars, Hollywood celebrated some of the smaller films of 2010 at the Independent Spirit Awards. Best feature Black Swan took home the most trophies, including one for Natalie Portman as she continues her winning streak. Before he gets down to hosting business tonight, James Franco celebrated a win for best male lead for 127 Hours, while Winter's Bone scooped up both supporting male and female.
Be sure to check out the red carpet highlights and vote on all of the fashion and beauty looks from the event. And don't forget to tune in today to see if the winners can have the same luck at the Academy Awards — we'll be broadcasting live!
To see the full list of the winners, just read more.
BEST FEATURE
Black Swan
BEST DIRECTOR
Darren Aronofsky (Black Swan)
BEST FIRST FEATURE (Award given to the director and producer)
Get Low
Director: Aaron Schneider
Producers: David Gundlach, Dean Zanuck
BEST MALE LEAD
James Franco (127 Hours)
BEST FEMALE LEAD
Natalie Portman (Black Swan)
BEST SUPPORTING MALE
John Hawkes (Winter's Bone)
BEST SUPPORTING FEMALE
Dale Dickey (Winter's Bone)
BEST SCREENPLAY
The Kids Are All Right
BEST FIRST SCREENPLAY
Lena Dunham (Tiny Furniture)
BEST CINEMATOGRAPHY
Matthew Libatique (Black Swan)
JOHN CASSAVETES AWARD (Given to the best feature made for under $500,000; award given to the writer, director, and producer)
Daddy Longlegs
BEST DOCUMENTARY
Exit Through the Gift Shop
FOREIGN FILM
The King's Speech
ROBERT ALTMAN AWARD (Given to one film's director, casting director, and its ensemble cast)
Please Give