2011 MTV Movie Awards Full Winners List
Announcing the 2011 MTV Movie Awards Winners
The MTV Movie Awards have wrapped, and host Jason Sudeikis roasted the nominees while star guests handed out the iconic golden popcorn statues. As has become the trend the past couple of years, the Twilight stars dominated, with Robert Pattinson and Kristen Stewart winning awards for their performances (and lip-lock!) in Eclipse.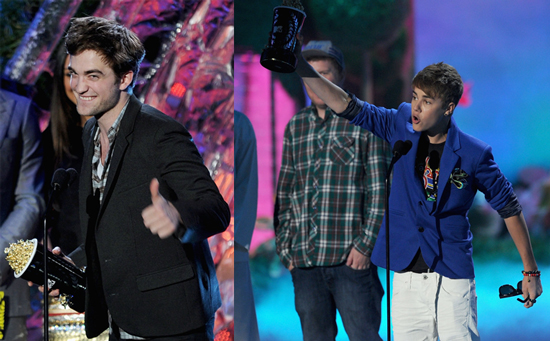 Actors from other movies managed to win awards at MTV's lighthearted ceremony, so to see the full list, just read more.
BEST MALE PERFORMANCE
Robert Pattinson, Eclipse
BEST VILLAIN
Tom Felton, Harry Potter and the Deathly Hallows, Part I
BEST JAW-DROPPING MOMENT
Justin Bieber, Justin Bieber: Never Say Never, Performance Spectacular
BEST FIGHT
Robert Pattinson vs. Bryce Dallas Howard and Xavier Samuel, Eclipse
BEST KISS
Kristen Stewart and Robert Pattinson, Eclipse
BEST FEMALE PERFORMANCE
Kristen Stewart, Eclipse
BEST COMEDIC PERFORMANCE
Emma Stone, Easy A
BEST MOVIE
Eclipse
BEST SCARED-AS-SH*T PERFORMANCE
Ellen Page, Inception
BEST LINE FROM A MOVIE
Alexys Nycole Sanchez, Grown Ups: "I want to get chocolate wasted."
BIGGEST BADASS STAR
Chloë Moretz, Kick-Ass
BEST BREAKOUT STAR
Chloë Moretz, Kick-Ass
MTV GENERATION AWARD
Reese Witherspoon