2011 MTV Movie Awards Red Carpet Pictures
Kristen, Reese, and Emma Lead the Short and Sparkling MTV Movie Awards Red Carpet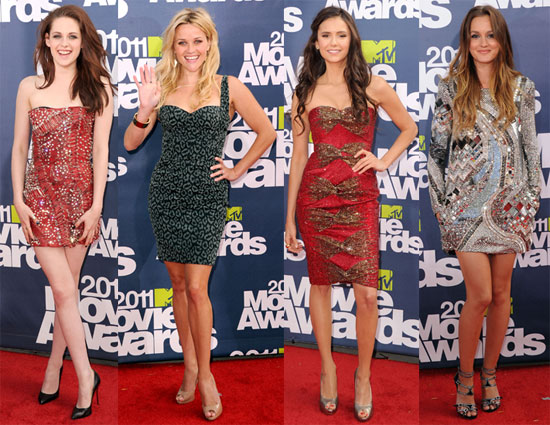 It was a sunny Sunday afternoon in Universal City when the stars hit the red carpet at the 2011 MTV Movie Awards, with lovely ladies leading the way. Kristen Stewart looked super sexy in Balmain, though she quickly swapped her heels for sneakers when she got into the show. She's lucky she was in comfortable footwear, since she spent a lot of time walking back and forth from her seat to the stage when Eclipse swept the night — check out all the MTV Movie Awards winners on Buzz. Reese Witherspoon looked adorable in her mini dress and had her friend Chelsea Handler along to help present the actress with the Generation Award. Nina Dobrev, like Kristen, went with red while Leighton Meester matched Miss Stewart in choice of designer. Leighton wore her own hot Balmain, though her Gossip Girl costar Blake Lively skipped the arrivals line and only emerged when she presented with Ryan Reynolds.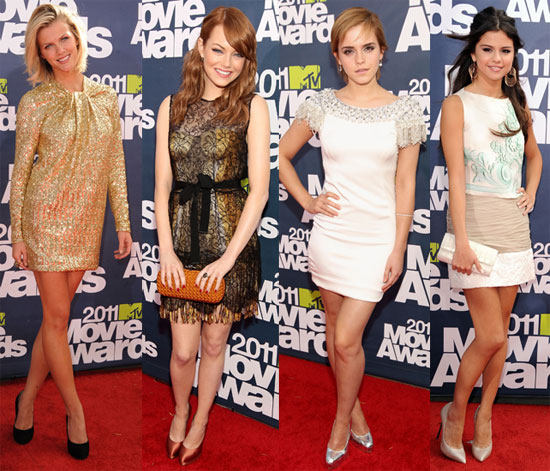 Brooklyn Decker brought her best girl friend as her date for the night and Emma Stone caught up with all her sexy leading men including Andrew Garfield and Ryan Gosling. The other adorable Emma, Miss Watson, wore a super short Marchesa and helped to present a new clip from Harry Potter and the Deathly Hallow Part II. Selena Gomez picked her own LWD and took to the carpet without her boyfriend Justin Bieber. He had his own special accessories for the night — Justin Bieber wore earrings to the show. Kristen Stewart is currently your pick for best dressed at the MTV Movie Awards so weigh in on that and all of Fab and Bella's fashion and beauty polls!
To see tons of pictures including Rosie Huntington-Whiteley, Chelsea Handler, Bryce Dallas Howard, and more just read more.