2011 Oscar Winner Full List
Announcing the 2011 Oscar Winners!
The Oscars have come and gone, and handed out all the statues on the biggest night of award season. Just as it led with the most nominations, The King's Speech dominated the awards with four victories, which included best director, best actor, and best picture. Still, there weren't a ton of surprises this year, especially in the acting categories, as we saw the same actors who've been sweeping the season take home their Oscar and join the triple-threat club.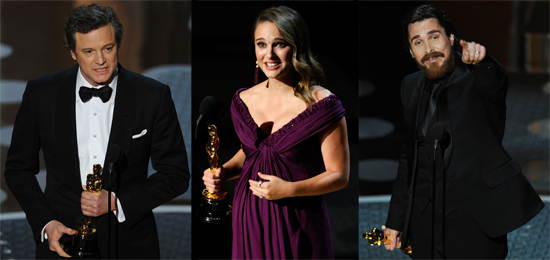 See who won and make sure to vote in my winner polls and read all my press room encounters with the victors! To get the list of winners, just read more.
BEST PICTURE
The King's Speech
BEST DIRECTOR
Tom Hooper, The King's Speech
BEST SUPPORTING ACTRESS
Melissa Leo, The Fighter
BEST SUPPORTING ACTOR
Christian Bale, The Fighter
BEST ACTRESS
Natalie Portman, Black Swan
BEST ACTOR
Colin Firth, The King's Speech
BEST ORIGINAL SCREENPLAY
David Seidler, The King's Speech
BEST ADAPTED SCREENPLAY
Aaron Sorkin, The Social Network
BEST FOREIGN FILM
In a Better World
BEST ANIMATED FEATURE FILM
Toy Story 3
BEST ACHIEVEMENT IN ART DIRECTION
Alice in Wonderland
BEST ACHIEVEMENT IN CINEMATOGRAPHY
Inception
BEST ACHIEVEMENT IN COSTUME DESIGN
Alice in Wonderland
BEST DOCUMENTARY FEATURE
Inside Job
BEST DOCUMENTARY SHORT SUBJECT
Strangers No More
BEST ACHIEVEMENT IN FILM EDITING
Angus Wall and Kirk Baxter, The Social Network
ACHIEVEMENT IN MAKEUP
Rick Baker and Dave Elsey, The Wolfman
BEST ORIGINAL SCORE
Trent Reznor and Atticus Ross, The Social Network
BEST ORIGINAL SONG
"We Belong Together" from Toy Story 3, music and lyrics by Randy Newman
BEST ANIMATED SHORT FILM
The Lost Thing
BEST LIVE ACTION SHORT FILM
God of Love
ACHIEVEMENT IN SOUND EDITING
Inception
ACHIEVEMENT IN SOUND MIXING
Inception
ACHIEVEMENT IN VISUAL EFFECTS
Inception