2012 Golden Globes Nominations Highlights
Brad, Blood and Honey, and Double Gosling — Highlights From the 2012 Golden Globe Nominations
It was a big morning for the stars of the big and small screens with the announcement of the 2012 Golden Globe nominees. Woody Harrelson, Sofia Vergara, Rashida Jones, and Gerard Butler rose early for the ceremony in LA. Yesterday brought news of the lucky celebrities up for Screen Actors Guild Awards, and there was plenty of overlap. We'll see many of the same faces at both shows, from Brad Pitt to George Clooney.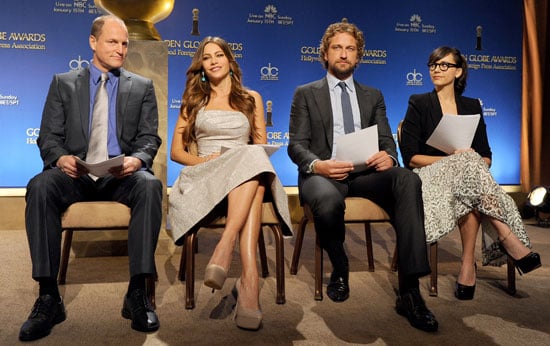 On the TV front, Modern Family got multiple nods along with Boardwalk Empire, Game of Thrones, and New Girl! 30 Rock's Tina Fey and Parks and Recreations's Amy Poehler are up for best actress in a TV comedy vs. New Girl's Zooey Deschanel. Kate Winlset and her Mildred Pierce also garnered multiple notices.
The movie categories feature many of our favorite stars, from Ryan Gosling, who picked up two best actor nominations, to Michael Fassbender. Angelina Jolie will also be on hand for the show, since The Land of Blood and Honey is up for best foreign language film. The Help, Bridesmaids, and The Ides of March all got notice from the Hollywood Foreign Press Association. A sampling of the actors up for honors include:
BEST ACTOR, MUSICAL OR COMEDY
Jean Dujardin, The Artist
Brendan Gleeson, The Guard
Joseph Gordon-Levitt, 50/50
Ryan Gosling, Crazy, Stupid, Love
Owen Wilson, Midnight in Paris
BEST ACTOR, DRAMA
George Clooney, The Descendants
Leonardo DiCaprio, J. Edgar
Michael Fassbender, Shame
Ryan Gosling, The Ides of March
Brad Pitt, Moneyball
BEST ACTRESS, DRAMA
Glenn Close, Albert Nobbs
Viola David, The Help
Rooney Mara, The Girl With the Dragon Tattoo
Meryl Streep, The Iron Lady
Tilda Swinton, We Need to Talk About Kevin
BEST ACTRESS, MUSICAL OR COMEDY
Jodi Foster, Carnage
Charlize Theron, Young Adult
Kristen Wiig, Bridesmaids
Michelle Williams, My Week With Marilyn
Kate Winslet, Carnage
Check out the full list of 2012 Golden Globes nominees before the show airs on Jan. 12, 2012.