2012 SAG Award Nominations List
Brad, George, Michelle, and Leo Top the SAG Awards Nominations!
Judy Greer and Regina King rose early in LA today to announce the nominees for the 2012 Screen Actors Guild Awards. There was lots of love for a few films in particular, including Moneyball, J. Edgar, The Descendants, and Bridesmaids!
Supporting actress nods went to five ladies, including The Help's Jessica Chastain and Bridesmaids' Melissa McCarthy, while J. Edgar's Armie Hammer and Moneyball's Jonah Hill got respective supporting actor nominations. The field for leading actress is particularly tight between Albert Nobbs's Glenn Close, The Help's Viola Davis, The Iron Lady's Meryl Streep, We Need to Talk About Kevin's Tilda Swinton, and My Week With Marilyn's Michelle Williams. Some of Hollywood's hottest guys are up for best actor, including George Clooney from The Descendants, Leonardo DiCaprio from J. Edgar, and Brad Pitt from Moneyball.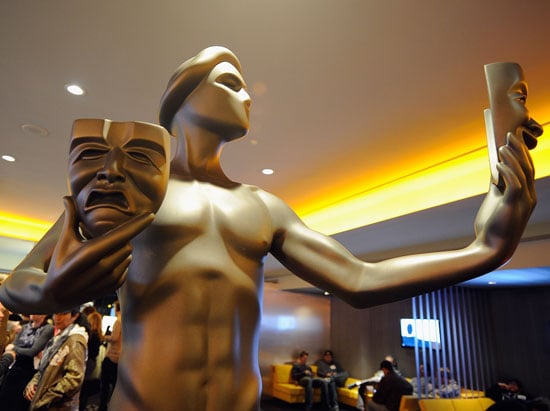 On the TV front, 30 Rock got lots of love with individual nods for Tina Fey and Alec Baldwin. Kate Winslet was noticed for her work in Mildred Pierce. Boardwalk Empire also scored multiple nods, including one for Steve Buscemi. We'll get to see who wins during the SAG show on Jan. 29 — and check out our full list of 2012 SAG Awards nominees!