5 of the Most Fascinating Details About the Amy Winehouse Documentary
We all knew Amy Winehouse, the wildly famous singer. But as a new documentary about her life proves, we really didn't know much at all about the real young woman behind the soul-deep voice, pile of beehive hair, and scandal-fueled headlines. Amy premiered at the Cannes Film Festival last month — where I had a chance to see it — and inspired an emotional outpouring from critics and fans alike. I sat down with director Asif Kapadia recently in LA to talk about the incredibly revealing footage he found and used to shape the movie. He also addressed the wide fissure he uncovered between the singer's public image and personal story. One of the film's biggest revelations: just how scary smart and wickedly funny Amy was. "I think there was a word she used a lot: bored. She was just so clever," Asif told me. "Her friends would be playing Hide and Seek, or some childish game, and one of them — Juliette — at one point said she came in and she was reading Schindler's List or something . . . at 8. They just found her in a corner of the room, not playing the kids' game, but reading Schindler's List. I think that [was] part of her problem, was the intelligence."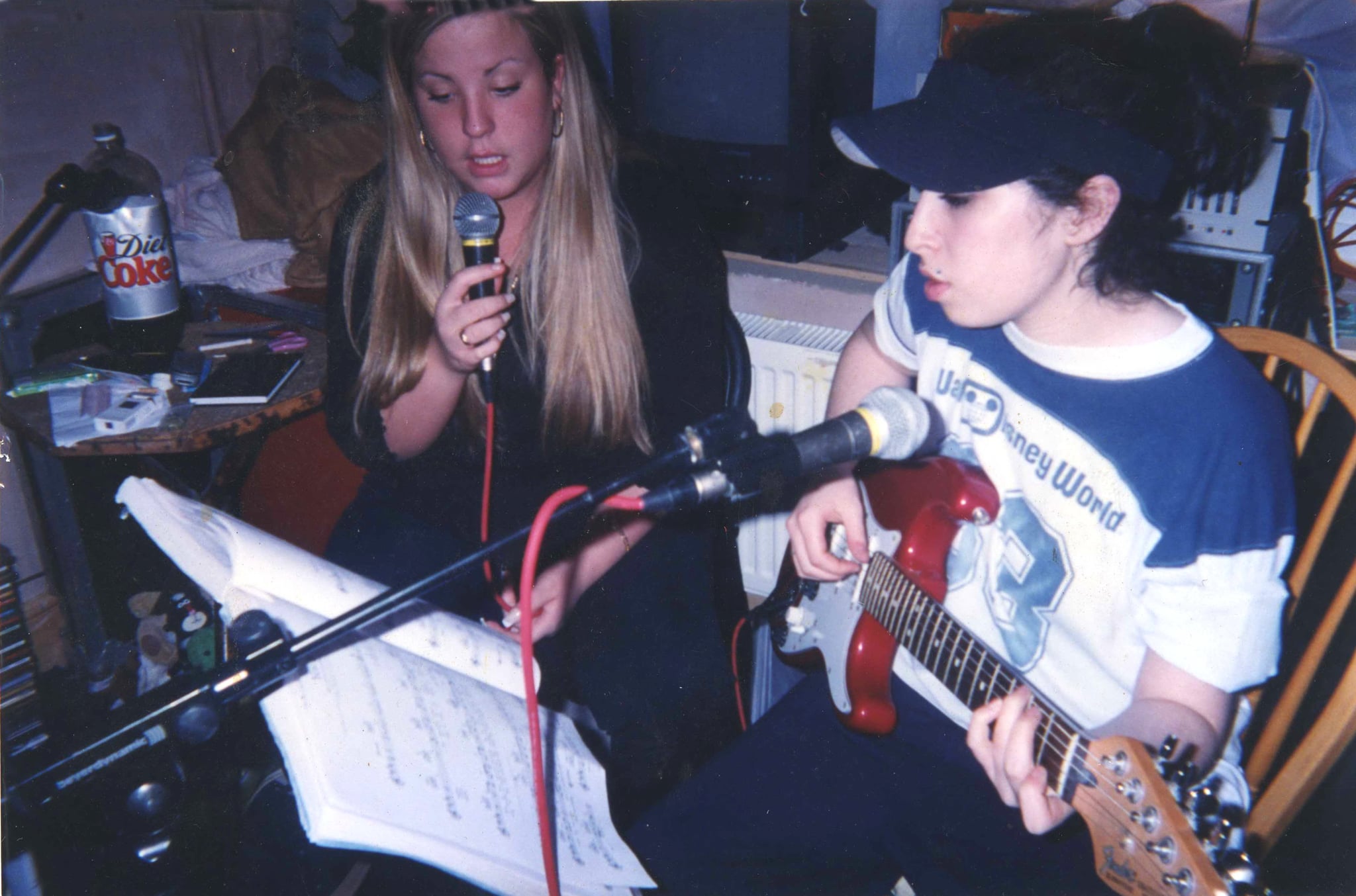 Amy came out on July 3, exactly four years to the month that Winehouse died in her London home of alcohol poisoning. If anything, the movie is a celebration of a life — not just a talent. "At the beginning, I knew about her, I had her CDs, I knew she had a good voice," Asif said. "Now, I'm like, we kind of all love her. You never thought that Amy Winehouse was funny, and clever, and intelligent, and you wish you hung out with her. And I think that's the thing that's so sad. A lot of people, guys and girls, they'd meet her and they'd kind of fall in love with her." Read on for five of the most compelling and surprising aspects of Amy.
It's the First Time Her Best Friends Have Spoken Publicly Since Her Death
Amy's childhood friends Lauren and Juliette were by her side throughout her journey to the top. Asif forged a trusting relationship with them and was able to mine their videos, photos, and memories of Amy to great effect. "There's a lot of material that I've seen with Juliette and Lauren, all the way through their childhood, that no one can deny they were best friends. But they are people that no one has heard of — never given an interview — that spoke. Most of the people I've spoken to have never spoken publicly before," Asif said. "They have not written books, not been on TV, not sold their stories to a newspaper. The film was very much an opportunity for those people to hopefully trust me enough to speak and then have their opportunity to talk."
It Opens With Never-Before-Seen Footage of Amy as a Teen
The first scene of the movie is washed-out, grainy home-video footage of a then-14-year-old Amy serenading Lauren with a version of "Happy Birthday" that's eerily grown up and sophisticated. "It's an interesting opening, because I think everyone starts like, 'Oh, it looks a bit weird. Looks a bit crap. What kind of sh*t is this film going to be?'" Asif said. "And then you hear her and you go: 'Wow.'" Asif suggests the choice to open the film on that moment was to reveal not only Amy's personality but also her incredible talent. "She's just a natural, amazing performer with charisma and a voice and it's really powerful. She's already fully formed at 14."
She Wrote Her Own Lyrics — and They Tell Her Life Story
Amy starting sketching out lyrics in a diary as a teenager, and Asif uses actual images of her handwriting from inside those pages to illustrate several moments and songs in the film. It's striking to see, right there on the screen, just how thoughtful and mature she was from a very young age. In fact, much of the material for her first album, Frank, was written when she was only 17 and 18 years old. Asif said that, before making the documentary: "I didn't know she wrote songs. Everyone talks about her voice, but I think the lyrics are even more amazing than the voice, because it's so personal, and it's original. It's about something. She's a kid, but a very, very mature kid." He also said he used the lyrics to aid in his "detective work" for the film, as an assurance that he was telling Amy's story genuinely. "There's no book to adapt, not one person that was there for the whole journey," he said. "[But] all of the answers are there in her lyrics."
Amy's Dad Is the Only Person in the Film Who's Spoken Out Against It
Mitch Winehouse participated with Asif in the making of the film, but once he saw the finished product, he publicly trashed the movie. Asif laughed softly and a little dejectedly when I brought him up — much of the media coverage of the film has focused on the elder Winehouse's displeasure with it. "He saw a screening a while ago, wasn't particularly happy, which is quite apparent. We had a chat afterwards. The honest truth is, there was a lot of things he was saying: 'You not got this right, you not got that right.' [But] we've done so much research, I can say to him, 'Well, I know this happened. I'm not putting it in the film, but I've seen it and I know.' And, honestly, he would go, 'Well, OK.' He knows what we know. Everyone else who has seen the film who is in the film and has spoken . . . nobody else has come out against the film." Amy's boyfriend Reg Traviss, who does not appear in Amy and whom she dated from 2010 until the time of her death, has also criticised the movie, however. He reportedly told the Mirror it was a "lazy journalistic portrayal" of her life.
The Director Didn't Film a Single Interview
Asif decided not to put any of Winehouse's friends, family, or co-workers on camera. Instead, he recorded audio of more than 80 interviews, many of them taking place in a dark, quiet room. "The times that you see people talking, they were interviews that they gave to TV companies, or they were essentially being paid for selling their stories," he said. "So the film is made entirely out of archives." Asif said he made the decision for an important reason. "I couldn't have interviewed Amy, and also I just wanted to see her. I didn't want to see anyone else talking," he explained. "When she's young, she's so funny, and so happy, and so intelligent, and bright eyed . . . and then you see her face change, her eyes change, her body shape change. It just felt like the story, visually, is just being told by looking at her. There's something about her that's very captivating."