Agyness Deyn Tops Grazia Magazine's Top Ten Best Dressed List, Followed By Gwyneth Paltrow. Kate Moss Is Absent.
Agyness, Gwyneth, SJP and Maggie More Stylish Than Kate
Lovely Agyness Deyn has topped the Grazia best dressed list for the second year running in the new issue, out today. Gwyneth Paltrow's most recent fashion-conscious look has got her into second place on the list, Sarah Jessica Parker is third and Carla Bruni-Sarkozy is fourth. Daisy Lowe and American actresses Maggie Gyllenhaal (love her), Uma Thurman, Natalie Portman and Kate Hudson are also within the top ten. Editor Jane Bruton said: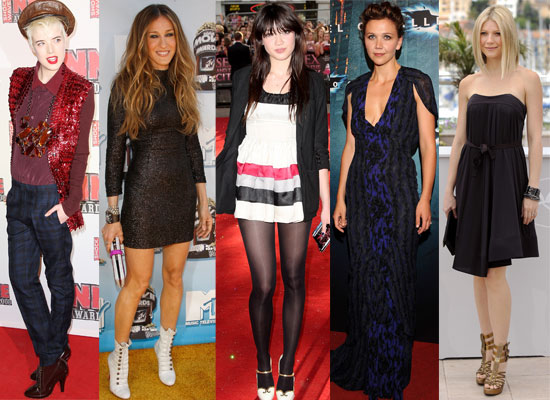 "Agyness Deyn had to take the crown. Her influentially eclectic look, trailblazing ability to segue between style personalities and pure fashion nous has had us captivated for months."
Quite. However, one notably absent face from the top ten list is the ubiquitous fashion maven Kate Moss who has lost out to American actresses and other Brit models. I'm equally pleased and disappointed by choices that made the top ten, I have to say. What do you reckon? And are you surprised by the lack of our usual go-to Brit fashion icon the list?