Alesha Dixon Reveals All To Cosmopolitan
August's 'Hot Secrets' issue of Cosmopolitan features Alesha Dixon looking gorgeous on the cover, and inside she dishes up some of her own secrets. She tells all about a therapeutic secret she's never revealed before as well as talking about men, her hopes for the future and the reasons she stays grounded. Here are some excerpts: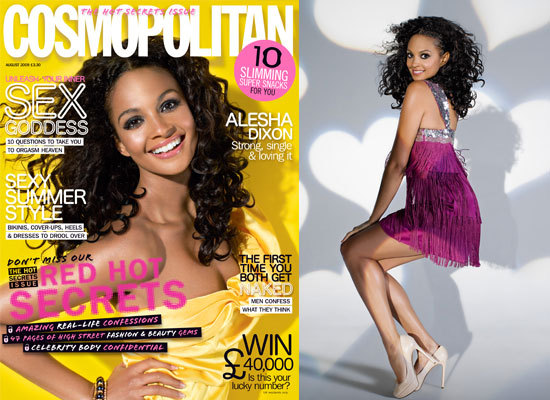 On meeting guys:"I don't get any guys chatting me up … honestly! Well, unless they're chatting me up and I just don't notice. I hate being chatted up though, so I don't mind – I'd just laugh if a guy came out with some terrible line! I'm still open to meeting someone, but I'm in no rush – I'm sure it'll happen when it's meant to."
On what she's looking for: "[I like] guys who don't pretend to be something they're not. And I like gentlemen who have respect for women; I'm old-fashioned in that way. Looks-wise, I don't have a type … It's the character that usually attracts me – a certain spark."
On her idols: "My music idol is Beyoncé and my TV idol is Oprah. I love Oprah and I want to be her. I'd love to do a show like hers."
On what she's learned: "I'm more comfortable in my skin now than I was in my twenties, and I feel much wiser. I'm positive about the future … I used to worry about it. But I've learnt that worrying is a waste of energy because it doesn't actually change anything. Now I accept things as they are and live for today, whereas before I was always looking ahead … I feel stronger because of things that have happened to me. In a weird way they've helped me."
To find out more from Alesha, just read more.
On the future: "It's important that I keep growing and challenging myself. When I get to 70, I want to be able to look back and know I took life by the scruff of the neck and went for it. I'm never going to look back and think 'if only' … Plus, I believe that if something isn't meant for you, it won't come to you. I've accepted that now and, as a result, I'm changing my attitude to life."
On her childhood: "Growing up, we didn't have a telephone, mum didn't drive a car and all my mates would have new clothes while I wore the same pair of jeans for two weeks … I was rich in many other ways … My ambition in life isn't to make money; it's to be happy and be a good person, and do things that stimulate me … I like to drive a nice car, live in a nice house and buy nice clothes, but they don't make me who I am."
On her friends vs work balance: "I've got good associates in the industry, but not people I'd call friends. I'm very good at not confusing my work and personal life. The saddest thing about this industry is that you have to worry whether you can trust people and whether they have an agenda."
On where she'll be in 10 years: "I'll be 40, so maybe I'll be drowning my sorrows with a bottle of vodka! [Laughs] Only joking … I'd like to still be working but be more chilled out. I pray to God that I'll be in a good place and that I'll be optimistic about turning 50. And I like to think I'll have a family."
On her guilty pleasure: "[It's] eating chocolate in bed while watching Friends, which I'm obsessed with. I have two box sets because some of the discs get ruined after I've watched them too much."
A secret she's never revealed before now: "When I don't have time for a wax, I'll get the tweezers out! It's quite therapeutic."
The full interview appears in the August 'Hot Secrets' issue of Cosmopolitan, out now!
Photos Courtesy of Cosmopolitan Magazine