Alex Reid Cross-Dressing Pictures, Gossip on Alex Reid's Cross-Dressing, Alex Reid Admits He Dresses as a Woman
Alex Admits to Cross-Dressing But Katie Refuses to Comment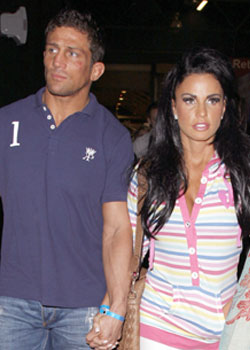 Alex Reid has confirmed the rumours that he dresses up as a woman. While Katie Price refused to comment on the stories in her OK! column, Alex said:
"It's a bit of fun. I've dressed up as a woman and it's a laugh. I've got nothing to hide and I'm proud of who I am. I'm not worried about social stigmas. If I go out and wear a dress, so f***ing what? I'm not one of those guys who likes to go to the supermarket dressed as a woman and I don't want a sex change."
Peter Andre has said he's not going to criticise Alex for cross-dressing, but added: "just don't do it in front of the kids. Give me that little bit of respect." Alex also revealed Junior called him Dad, but he asked him to call him Alex instead.