Amy Winehouse And Blake Fielder-Civil Granted A Divorce By London's High Court, Neither Of Them Are Present. Married In May 2007
Amy Winehouse and Blake Fielder-Civil Divorce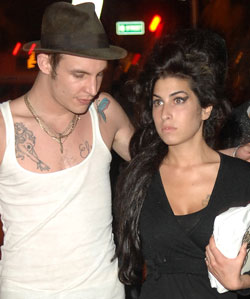 Amy Winehouse and her husband Blake Fielder-Civil were granted a divorce this morning at London's High Court. Neither Amy or Blake were present during the few minutes of proceedings before the divorce was granted.
Blake and Amy met in a bar in 2005 and married in Miami in May 2007, and Amy admitted her marriage was over in November last year, while Blake filed for divorce in January this year.
Lets hope that the two of them put their turbulent years together behind them and move on to brighter things.