Amy Winehouse's Estranged Husband Blake Fielder-Civil Released From Prison, Greeted By His Mum
Amy's Estranged Husband Blake Leaves Prison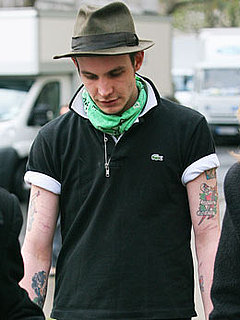 Blake Fielder-Civil left prison this morning after being jailed last July for assaulting a pub landlord and attempting to pervert the course of justice. In November he was released in order to go to rehab, but after failing a drugs test, he was sent back to jail to complete his sentence a month later.
As he left he was greeted by his mother, who brought the trilby hat he's rarely seen pictured without and put it on his head, before taking him home. Meanwhile his estranged wife Amy Winehouse is still in St Lucia, enjoying the sunshine and taking a break from her London lifestyle.
Who would have thought that Amy wouldn't be there to greet her "Blake incarcerated" as he finally left prison?