Amy Winehouse and Her Teeth To Appear At Grammy Awards Via Satellite Link
Amy Cleans Her Mouth Out Ahead of Grammy Awards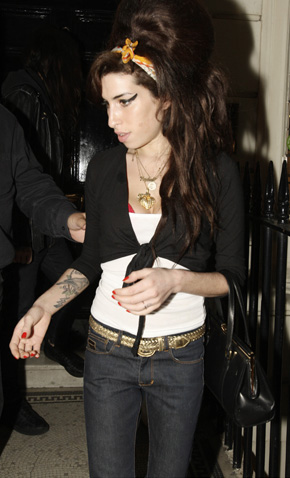 Amy Winehouse gave us a little glimpse of her teeth as she left a dentist in London today, which might be the first in a long line of beauty preparations Amy will be making ahead of her live satellite link up for the Grammy Awards in LA this Sunday.
Following the announcement yesterday that she would not be able travel to the US to perform in person, Amy has spoken out today about her delight at being invited to perform live via satellite. She said:

"I'm raring to go and really excited to be performing at my first Grammy Awards ... I'd like to thank everyone for their support over the last couple of weeks. I'm really sorry I can't be there but I appreciate that I'm being given a second chance via satellite."
Her spokesman said the satellite link would continue throughout the show so that Amy could say thank you if she wins any of the six awards she's up for, including Song of the Year for "Rehab". Speaking of which, Amy will return to the Capio Nightingale Hospital after the ceremony to continue her treatment. Fingers crossed her brief stint away from the clinic won't set her back on her recovery. Fingers crossed also that this performance will be more impressive than her recent shambolic shows.
Do you think Amy should be allowed to go to the Grammys?
UPDATE: People reports that Amy Winehouse has been granted a visa by the US government now, but it's a case of too little too late. Due to difficulties with flight timings, she will go ahead with the planned performance via satellite.