Amy Winehouse Rushed To Hospital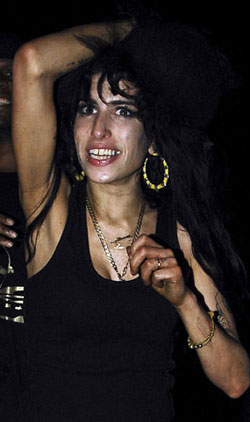 Amy Winehouse was rushed to hospital last night after suffering a reported reaction to her medication, her spokesman has said. She is reportedly in a stable condition.
The singer was taken University College Hospital after an ambulance was called to her house in Camden at approximately 8.40pm yesterday.
Amy's dad Mitch was with his daughter, and when asked how serious her condition was, held up a takeaway and said: "This is how serious it is".
There are also reports that Mitch was heard shouting: "She's f***** up, she's f***** up". An onlooker told The Sun that Mitch said to fans: "She's just mixed up her medication".
She is being kept under observation and her spokesman has said it is likely that she will be released today.
Get well soon Amy.
UPDATE: A spokesman for University College Hospital has said Amy has been discharged after spending "a comfortable night" under observation.
UPDATE 2: Amy's spokesman Chris Goodman has released a statement this afternoon saying: "She had a bit of a scare yesterday because of a reaction to treatment. She was kept in overnight purely for observation... Amy is at home now after leaving with her father and manager. She is having a rest."