Angelina Jolie Gave Jack Black's Wife a Maternity Dress
Angelina Jolie Gave Jack Black's Wife a Sweet Pregnancy Present After Their Last Cannes Trip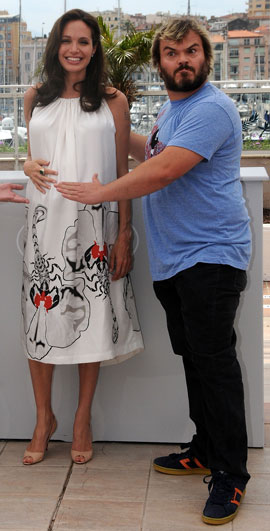 Angelina Jolie and Jack Black are prepping to visit France ahead of their Kung Fu Panda 2 screening during the Cannes Film Festival. The costars will be together again for the cinema event after a stint there in 2008 to show off the first movie in the franchise. Angelina was pregnant with twins Vivienne and Knox then, but the world didn't know she was having two babies. Jack memorably let it slip that she was expecting more than one child, but Angelina apparently didn't hold a grudge.
In a recent interview, Jack reminisced about the sweet gesture Angelina made despite his slipup. Angelina sent his pregnant wife, Tanya Hayden, a maternity dress that she'd complimented earlier. Jack recounted the episode and said to Angelina, "You were preggers, and I spilled the beans. And my wife, Tanya, was like, 'That is the most amazing maternity dress I've ever seen.' You had this gorgeous gown, and she was less preggers, but she had one on the way as well. . . And you're like, 'Oh, thanks.' And then, what do we get in the mail like the next week? That gown. You sent it over. It was one of the sweetest gifts of all time."
We'll see what Angelina chooses to wear this year when she and Jack make their first appearances on the red carpet tomorrow. It seems you are excited to see her selection, as Angelina was ranked the celeb you're most looking forward to seeing during the film festival over her partner, Brad Pitt, and others like Penelope Cruz and Johnny Depp.