Arya Stark's Similarities to Ned Stark on Game of Thrones
Game of Thrones: Arya Stark Looks So Much Like Ned Now It's Insane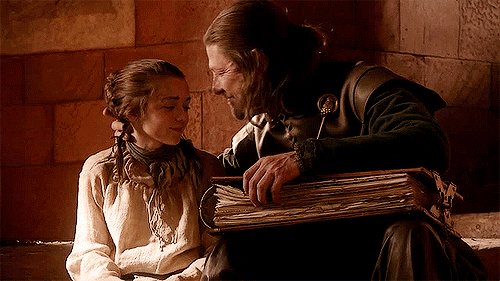 During the most recent episode of Game of Thrones, "The Spoils of War," a long-awaited reunion between separated sisters Arya and Sansa Stark finally happens. They hug and catch up in Winterfell's crypt, standing in front of the tomb of their late father, Ned Stark. Although Arya remarks that the stone statue looks nothing like him, it's hard not to notice in that scene in particular who does look like Ned: Arya herself.
Over the course of seven seasons, the deadly assassin has undergone a major transformation. She starts off Game of Thrones as a scrappy young girl who just wants to learn how to sword fight rather than becoming a lady of a castle and marrying some lord. Arya clearly has a special bond with her dad from the get-go, and seeing him brutally and tragically beheaded in King's Landing is what kicks off her mission to get revenge on everyone who harmed her family.
With each new season of the series, Arya has subtly transformed into her father as she matures and becomes savvier about the world around her. From their half-up, pulled-back hairstyles to their layered cloaks, the resemblance between the characters is uncanny (they even wear a similar leather X detail over their chests).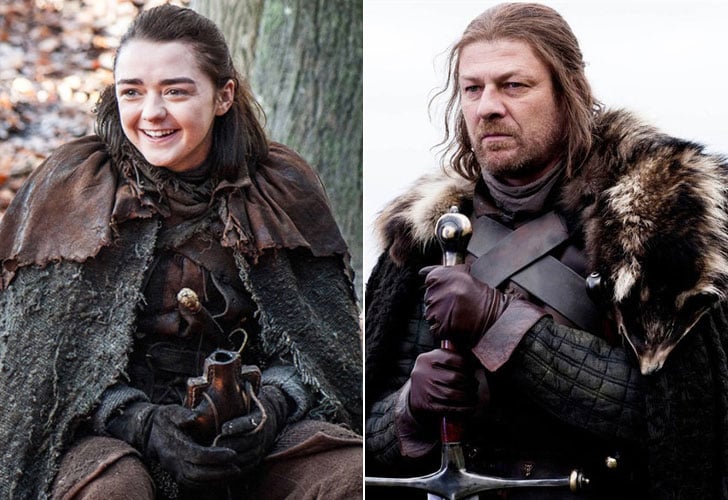 This isn't the first time one of the Stark children has physically taken after Ned, either. In season six, Jon Snow ditches his typical Castle Black attire for a brown leather coat of plates. The vest is the same one that Ned wears in previous episodes and is traditional attire for House Stark (Robb also dons similar armour in earlier seasons). Not only that, but Jon's habit of tying his hair into man bun earns him some Ned comparisons every now and then, as does his personality overall since both are brooding, fantastic leaders.
Despite the fact Ned has been dead and gone since season one, it's touching to see his legacy still living on in his children in different ways. With the Starks back in control of the North, it will be exciting to see how Jon, Sansa, Arya, and Bran choose to rule.