Ashley Greene in Elle August 2010 2010-07-15 04:56:29
Windswept Ashley Greene Talks Twilight, Alice Cullen and Being Sexy in Elle
Ashley Greene looks dark and mysterious for the August issue of US Elle with Drew Barrymore on the cover. The Eclipse star has spent her Summer promoting the film across the globe and sneaking in romantic moments with boyfriend Brock Kelly. Ashley is best known for her role as Alice Cullen and says that while she's grateful for the opportunities opened up by the Twilight saga, she's also eager to branch out as an actress. Her upcoming roles in the comedy Butter and horror flick The Apparition should show she can do just that. She says: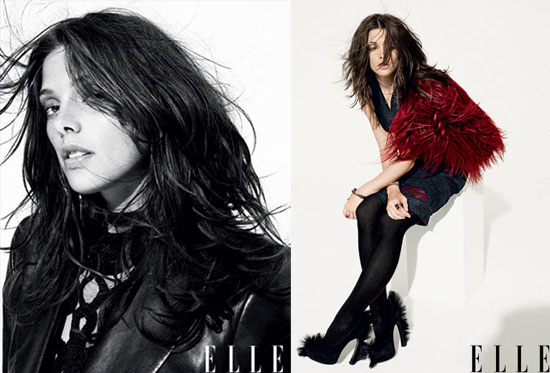 On the Eclipse cast's demanding schedule: "I've gone from zero to 60. Every one of us is working like a maniac!"
On embodying Alice

Cullen

: "The fans were already there. Before they knew Ashley Greene, they knew Alice Cullen, and they all had an idea of how she looked...I'm very thankful that Stephenie Meyer wrote a character that I happen to look like."
On her love of body-conscious fashion: "There's something about being a woman, being appealing, and being sexy and feeling good about yourself."
Photos courtesy of ELLE