Ashley Jensen Talks Shakespeare, Silly Voices and Brutal Kids' Films For Gnomeo & Juliet
Ashley Jensen Talks Shakespeare, Silly Voices and Brutal Kids' Films For Gnomeo & Juliet
Ashley Jensen stars alongside Emily Blunt, Matt Lucas and James McAvoy in Gnomeo & Juliet, and last week I attended a press conference where she talked about her experiences making the film. Here's what she had to say: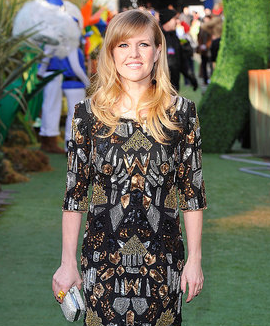 What was your reaction when you were told you'd be voicing a frog?
AJ: Well, I'd never done an animated movie before, which is why I was so excited about doing it. It was one of the little boxes as an actor that I wanted to tick off. I wanted to do an animated film. So, after my mum got over the fact that I was never going to play Shrek's sister, being Scottish and all, this was the nearest I was going to get!
How did you cope with the animated process and being in the booth?
AJ: It was almost like being a child again because you felt like you were in your bedroom and it almost felt like no one was really watching you. So, you were just kind of having a bit of fun on your own doing silly voices in the bedroom. There was actually a camera on your face. I don't know so much about the animation process but the camera was in our face so it could get expressions from our faces that would eventually arrive on the gnomes. It almost felt like you were cheating at times because it was a wee bit too much fun. You were in that box on your own. Kelly [Asbury, the Director] was in Toronto, I was in LA, so I was just on my own. I thought: "I can't be getting paid for this as well!"
Have any of Elton John's songs or albums got any special resonance for you?
Mine would be "Your Song", which is just one of his ones that I... I was actually glad the whole song wasn't played in this film and it's just a few bars of it because it makes me cry. You know, there are some songs that just make the hairs on the back of your neck just stand up? That's one of those for me – I put it on if I want a good cry.
To read what previous Shakespeare experiences Ashley has had, how she divides her time between America and the UK, and her favourite childrens' film, just read more.
Have you had any previous experiences of performing Shakespeare?
AJ: I was in King Lear with Sir Tom Courtenay at The Royal Exchange in Manchester. In fact, that's where I met my husband. I was playing Regan and he was playing Cornwall and together we fell in love plucking out Gloucester's eyes. It was great fun. Everyone assumes that I was Cordelia because I've got blonde hair but I was Regan and they gave me a long auburn wig. It was great, good fun.
Since moving to LA you've come back to Britain to do Nativity and now this. Is that to sort of show the folks back home that you haven't left them behind?
AJ: I only do children's films now! I think when you go to LA some people feel you've defected a little bit and that's not really the case. Ideally, I would love to work here and to work in America. That's in an ideal world. In fact, I came back to Britain recently to do an ITV1 drama that will be out in April for a couple of months! But I'm flying back to LA to do a pilot season. So, to work in both places is great.
What is your favourite kids film and why?
AJ: I'm thinking of Mary Poppins, The Sound of Music... there are too many to name really. And all the old classic ones like Snow White & The Seven Dwarfs and Bambi. That's brutal!
Gnomeo & Juliet is released nationwide this Friday.