Ashton Kutcher Interview No Strings Attached UK Press Conference Talking Nude Scenes, MPAA, Sex Scenes
Ashton Kutcher Talks On Screen Nudity, Realism and the MPAA's Rating System For No Strings Attached
While Ashton Kutcher was in the UK a fortnight ago to promote No Strings Attached, he sat down with director Ivan Reitman to answer some questions and I was there. Yesterday I shared what he had to say about his costar Natalie Portman and romance in a digital age, and here he talks about his nude scenes and the 'R' rating that it received for its US release: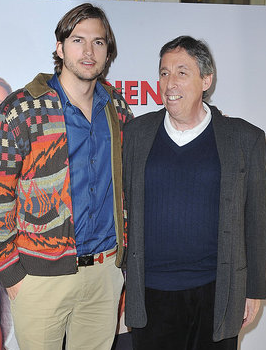 On his pre-nude scene workout regime: AK: "I actually stopped working out for this movie. I had that conversation with Ivan before it started. This guy's a production assistant and aspiring writer — I know a lot of these guys and none of them are particularly fit. And I just felt like he's in a very enviable position, as the fantasy of most guys would dictate so I thought making sure that this character was real, was really important. So Ivan and I had this discussion… I said "I think I'm going to let myself go a little for it" but apparently I didn't let myself go enough, because that's all that anyone wants to talk about."
On the 'R' rating being the price paid for the movie's realism: IR: "Yeah, unfortunately, it's mostly for language that we got the 'R' rating, and for sexual situations and the explicitness of the ideas. It's just the way the MPAA, the rating board in America, is set up. In Australia and Europe the rating has been lower. I think they're much more concerned about sexual conversation than they are blood letting and I think it's a weird anomaly…." AK: (interjecting) "If you want to make an honest movie in the States it will be rated 'R'."
On the close ups of Ashton's bum in the film: AK: "That's a big ass…" IR: "He likes to be naked." AK: [shrugs] "I like having it out… We all come into the world this way, there's very little we can do about it, you are who you are. Doing the scenes, it doesn't matter, it's infinitely awkward, you have 40 strangers standing around… I think it's less awkward for guys than girls because the crew tends to be slightly more masculine, and, you know, mine doesn't look that different from yours. Whenever I'm doing scenes like that, whether it's a sexual scene or one that involves nudity, I actually get out of myself by trying to make sure that the other person's okay, and when you're caring about someone else you really stop worrying about yourself and that's kinda my mental cycle that I put myself through. Then I apologise a lot."
No Strings Attached is out in UK cinemas today!