Ashton Kutcher No Strings Attached UK Press Conference Interview Talking Relationship Advice, Natalie Portman, Twitter and Love
Ashton Kutcher Talks Relationship Advice, Romance, and Love in a Digital Age For No Strings Attached
Ashton Kutcher was in the UK a couple of weeks ago promoting his new movie No Strings Attached, which is released here tomorrow. I attended a press conference where Ashton and director Ivan Reitman talked engagingly about filming the romantic comedy. The actor also spilled about pressing pause on his love of technology for romance, and how he created chemistry with his leading lady Natalie Portman. Here's what he said: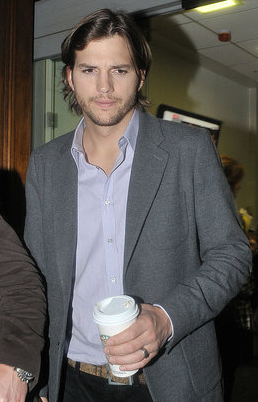 On his relationships when he was a teenager: "I was a fumbler —I didn't really have a girlfriend girlfriend until I was a senior in high school so, I really didn't… I was kinda nervous about the whole thing. I didn't manage very well."
On what relationship advice he'd give other people: "I'm just trying to make mine work. I think that great relationships are great partnerships and those come in all kinds of shapes sizes, forms, ages, and whatever it is. And the only tip I have for anyone in a relationship or partnership is work on it when it's good. It's very easy to try to take that break when things are going good but that's the time that you have to keep working on it, because you keep it good."
On romance: "Romance is personal. The carrots [my character gives Natalie's] in this film are in place of flowers because she didn't want them, so it meant something to her. Romance is just that, it's usually not some grand gesture, it's usually something that's very very simple but very very personal. Romance is an island right next to care, and when you care about someone and you know them and you can feel them, then you know just what's right. And generally it's something that would be very unimpressive to a room full of strangers."
To read Ashton's thoughts on working with Natalie Portman and his comments on how social media affects romance in the 21st Century, just read more.
On how he and Natalie Portman created chemistry: "It's easier when you like the person, and she's very likeable. I don't know if it's something you can plan, or it's something you can manufacture, I generally find that you can have good chemistry with someone that you can argue well with and I think [smiles]. . . Natalie and I both really appreciate being right. But I think she could have good chemistry with this cup if she wanted to, she's probably one of the best actresses of my generation, I believe she is. It is a plus as an actor, because you know that everything you get across from you is going to be real and honest and reactive and beautiful. At the same time, when the light shines in a dark room all the dust shows… and so it was a challenge for me, absolutely, to be as honest as she is in every scene."
On how social networking affect romance: "I think there's a couple of elements to it — I think it's accelerating relationships, but it's also making them very disposable. The notion that you can just "unfriend" someone with the push of a button is kind of frightening. And therefore I think people are having less of an investment in relationships. Now it can be one date and you go on Facebook and you know who all their friends are, you know who all your friends are in common, you know who their family is, what they do for a living, what they ate yesterday, and what they did for Christmas. All that information makes us feel very familiar with people that we may not know at all, so relationships are coming together faster and they're breaking apart faster. At the same time I think that creates great opportunities for romance — because I think a handwritten letter probably means more today than it's meant in quite some time. I'm very tech forward, I believe in it, however I also think that pushing the pause button is not a bad thing, and really connecting with people one to one is important."
Stay tuned for more from Ashton at the No Strings Attached press conference in part two, tomorrow!