Backstage Photos And Full List Of Winners From 2009 NME Awards, Including Muse, Noel Fielding, Elbow, Pete Doherty, Carl Barat,
NME Awards 2009: The Winners!
I'll be updating the winners of all the 2009 NME Awards in this post, so keep your eyes peeled and see if your favourite nominee took home the trophy you wanted them to! Muse beat out Radiohead, Oasis, The Killers and Kings Of Leon to the trophy for Best Live Act, as voted for by NME readers. Oasis have won the Best British Band gong, while Pete Doherty has picked up the Best Solo Act award! Are you pleased with the winners so far? Let me know if you think the winners deserve their awards (or not) in the comments.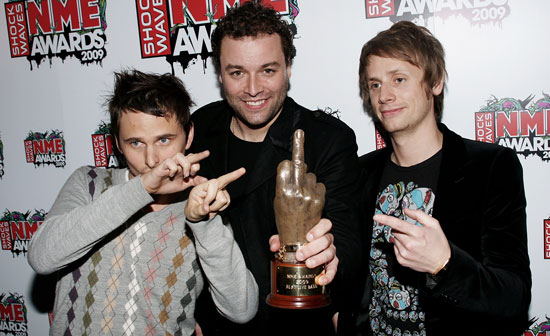 MGMT took two awards for Best New Band and Best Song, while the Jonas Brothers were also double winners — taking Worst Band and Worst Album. President Barack Obama was awarded the Hero of the Year award, while George W. Bush was voted the Villian of the Year, for the sixth time in a row! Alexa Chung beat out Alex Turner to win best dressed, and that crazy The Mighty Boosh gang won Best TV Show — check out pictures of some of the winners in the gallery!
Best Live Band — Muse
Best British Band — Oasis
Best New Band — MGMT
To find out more of the winners and see more photos, just read more.
Best DVD — Arctic Monkeys At The Apollo
Best Track — MGMT "Time To Pretend"
Best Dancefloor Filler — Dizzee Rascal feat. Calvin Harris "Dance Wiv Me"
Best Album — Kings Of Leon Only By The Night
Phillip Hall Radar Award — The Big Pink
Best Live Event — Glastonbury Festival
Best TV Show — The Mighty Boosh
Best Solo Artist — Pete Doherty
Best International Band — The Killers
Best Video — Last Shadow Puppets "My Mistakes Were Made For You"
Hero Of The Year — Barack Obama
Worst Album — Jonas Brothers A Little Bit Longer
Best Blog — Noel Gallagher
Best Venue — London Astoria
Sexiest Male — Matt Bellamy from Muse
Best Website — YouTube
Best Album Artwork — Muse HAARP
Sexiest Female — Hayley Williams from Paramore
Worst Band — Jonas Brothers
Villian Of The Year — George W. Bush (sixth year running!)
Worst Dressed — Amy Winehouse
Best Dressed — Alexa Chung
Outstanding Contribution — Elbow
Godlike Geniuses — The Cure