Barack Obama's Congratulations on Royal Baby
The Obamas Congratulate the Royal Family on the "Joyous Occasion"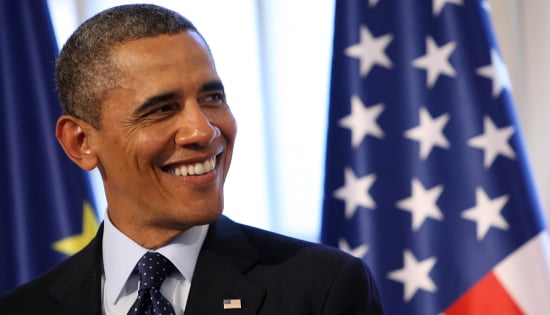 Several members of the royal family have released statements on the royal baby's birth, and now President Obama has chimed in to offer congratulations to the monarchy. To honor Prince William and Kate Middleton's firstborn, Obama said:
Michelle and I are so pleased to congratulate The Duke and Duchess of Cambridge on the joyous occasion of the birth of their first child. We wish them all the happiness and blessings parenthood brings. The child enters the world at a time of promise and opportunity for our two nations. Given the special relationship between us, the American people are pleased to join with the people of the United Kingdom as they celebrate the birth of the young prince.
Michelle Obama tweeted a message to the new parents:
Congratulations to The Duke and Duchess of Cambridge on the birth of their son! Being a parent is the best job of all. -mo

— First Lady- Archived (@FLOTUS44) July 22, 2013
Meanwhile, Hillary Clinton also took to Twitter to offer her well wishes:
Congratulations from across the pond to the Duke and Duchess! Wishing you the best of luck and a bit of advice: It Takes a (Royal) Village!

— Hillary Clinton (@HillaryClinton) July 23, 2013
After the Duke and Duchess of Cambridge got married in April 2011, the Obamas were able to congratulate them in person following their honeymoon when they visited London that May.