Benedict Cumberbatch Vanity Fair Interview November 2016
No, Benedict Cumberbatch Still Doesn't Understand the "Cumberb*tches"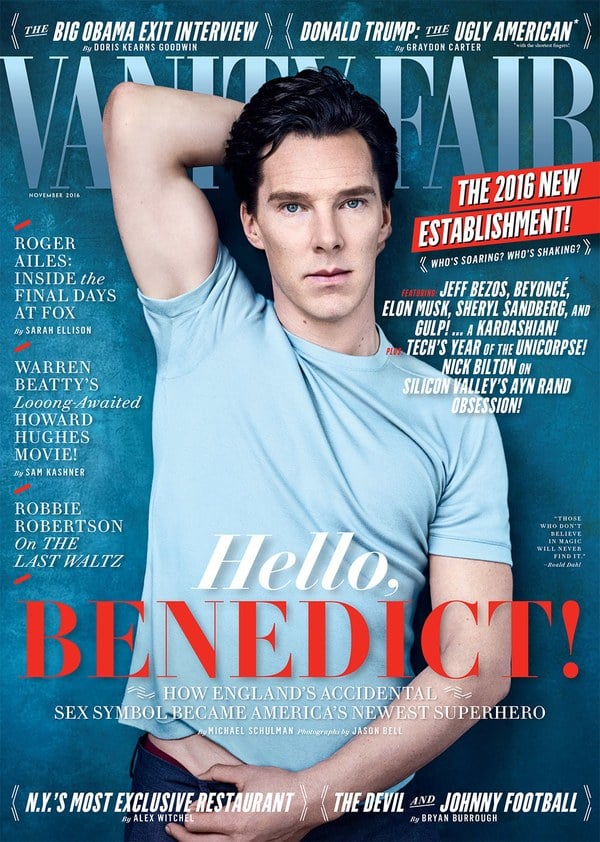 Benedict Cumberbatch was crowned "the internet's boyfriend" some time ago, but that doesn't mean he understands the honour yet. Since skyrocketing to fame in 2010 after roles in Sherlock and War Horse, the actor has amassed legions of dedicated fans (known as "Cumberb*tches" and "Cumberbabes"), nabbed an Oscar nomination, and scored a coveted Marvel superhero role, all of which he reflected on in an interview for the November issue of Vanity Fair. Benedict, who got married to Sophie Hunter and welcomed a baby boy last year, even revealed the near-death experience he endured in 2004 while filming To the Ends of the Earth in South Africa, so check out his best quotes below.
On his obsessive fans: "I'm glad I'm bringing a ray of sunshine to an otherwise dull day, being imagined eating fritters shirtless. But, I don't know, it makes me giggle. I don't look at myself in the mirror and go, 'Yeah, absolutely! I see what they're saying!' I see all my faults and everything that I've always seen as my faults."
On his 1-year-old son, Christopher: "Having a baby — it's massive. And on a very unexpected level. Suddenly I understood my parents much more profoundly than I ever had before."
On how having a baby will influence his acting career: "I was expecting, with Hamlet, that it might be a hindrance to be a father, because it's all about being a son. But it's the opposite. You understand much more about being a son, becoming a father."
On being robbed at gunpoint in South Africa: "I was definitely more impatient to live a life less ordinary. I wanted to swim in the sea that I saw the next morning. If you feel you're going to die, you don't think you're going to have all those sensations again — a cold beer, a cigarette, the feel of sun on your skin. All those hit you as firsts again. It is, in a way, a new beginning."
On what's next for him: "It's a sappy answer, but the truth is I want to seek some thrills at home."