Best Bill Clinton Impressions
Who Does the Best Bill Clinton Impression?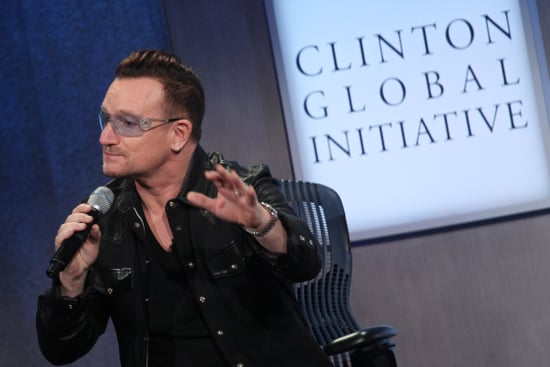 Speaking at the Clinton Global Initiative event in NYC on Monday, Bono brought the laughs with a Bill Clinton impression worthy of the Saturday Night Live stage. The U2 singer took the mic and did a spot-on Clinton voice as he explained the pair's first meeting in the White House's Oval Office. For his part, former President Clinton took it well, joking that he must be easy to make fun of — and considering all the Clinton impressions from over the years, there may be some truth to that. Watch Bono's take on the former president below, plus more Clinton impressions from other stars and comedians after the break.
U2's Bono
Bono traded his Irish accent for an Arkansas drawl, cracking up the crowd at the Clinton Global Initiative event in September 2013.
Kevin Spacey
At the Helen Hayes Awards in 2012, Kevin Spacey offered some kind words about Clinton before capturing his voice perfectly.
Matt Damon
During a December 2012 appearance on The Tonight Show, Matt Damon told a funny story about his time meeting with the president, while impersonating him.
Darrell Hammond
SNL alum Darrell Hammond regularly impersonated Clinton on TV, and the former president got in on the joke when the pair shared the stage at an event in 1997.
The Roots
In July 2013, Jimmy Fallon asked The Roots to do their best impressions of Bill Clinton, and the results are predictably hilarious.
Frank Caliendo
Comedian Frank Caliendo channeled Clinton in a silly parody video about The Clinton Library.
Chris Tucker
Jay Leno asked Chris Tucker to do his best Clinton impression on The Tonight Show in July 2011, and the comedian said that Clinton actually asked him to do the imitation during a trip to Africa.