Biggest Headlines of 2010: England's World Cup Woes!
Biggest Headlines of 2010: England's World Cup Woes!
We're looking back at the biggest headlines of 2010, and we'll be revealing more throughout the month of December. Here's one of the stories that created the most buzz over the past 12 months and don't miss the rest of our Best of 2010 coverage across the network!
The World Cup took place in South Africa this year, with David Beckham joining the players there and playing an integral part in preparing the team for the event. Unfortunately we didn't see much victory during our time there, and we were dealt even more disappointment when our 2018 World Cup attempt failed.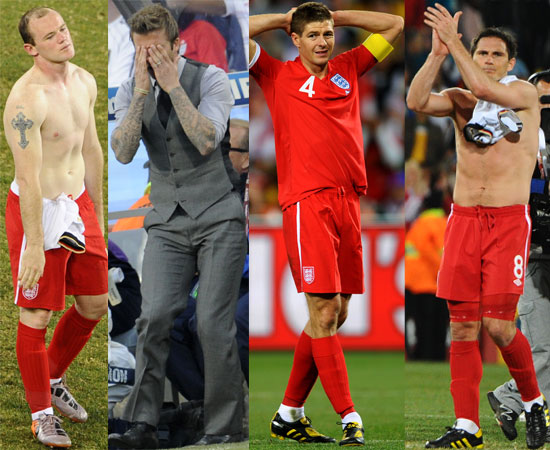 David joined the team, though an achilles injury meant he could not play. He was with them for training and then looked sharp on the sidelines for our first match against the USA, which ended in a 1-1 draw. Prince William and Harry watched them play Algeria, which ended in another draw — this time 0 - 0.
John Terry publicly criticised England coach Fabio Capello, just before the team won against Slovenia, getting into the final 16. Unfortunately the victory was short-lived, as we went out of the competition after losing to Germany. Still, there were more than a few shirtless memories from the competition that provided highlights.
At the beginning of December, we found out our bid to host the 2018 World Cup was unsuccessful. Prince William, David Beckham and David Cameron were part of the team that travelled to Zurich to make a presentation to FIFA.