Biggest Headlines of 2010: General Election
Biggest Headline of 2010: General Election
We're looking back at the biggest headlines of 2010, and we'll be revealing more throughout the month of December. Here's one of the stories that created the most buzz over the past 12 months and don't miss the rest of our Best of 2010 coverage across the network!
Britain was thrown into a state of flux in May, when we experienced a hung parliament. The General Election resulted in no one political party having the necessary majority. Having been in charge since 1997, Labour lost out and we got a coalition government.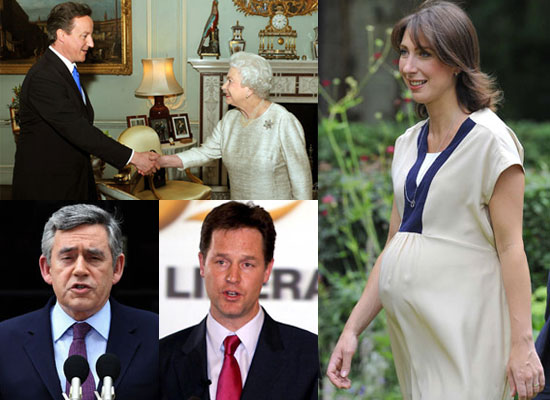 On May 11, Gordon Brown resigned as Prime Minister, leader of the Labour party, and an MP. He announced his intention the day before, accepting that his party's inability to an overall majority was also a judgement on him. Although it was thought he would stay in his position until September, he acted sooner rather than later. As is the protocol, Brown formerly tend his resignation to the Queen at Buckingham Palace, and recommended David Cameron succeed him. Cameron became Prime Minister that evening and announced a coalition government with the Liberal Democrats. Late that night, Nick Clegg was named Deputy Prime Minister.
2010 was a year of change for the Camerons on the personal front too. They announced Samantha Cameron's pregnancy in March. She was due in September, but gave birth early, while the family were on holiday in Cornwall. They named their daughter Florence Rose Endellion, after the village St Endellion in the north of the county.