Bjork Live At Hammersmith Apollo, April 14th 2008, With Guests Antony Hegarty and Toumani Diabate
Pop Reports: Bjork At The Hammersmith Apollo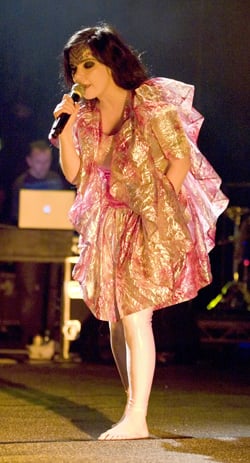 0
Pop Reports: Bjork At The Hammersmith Apollo
I had a busy evening yesterday – not only did I watch the Skins series finale, but I also ventured out to Hammersmith Apollo to see the amazing Bjork play live.
It was a magical gig, full of crazy outfits, gorgeous songs, lasers, confetti and an all women brass band she called "The Wonder Brass" - nice! The show was spectacular, with each song changing the pace and vibe of the gig to a degree I'd never felt before.
But it wasn't just the music – Bjork came out on stage in a fabulously eccentric wig made up of multicoloured spheres, her brass band had flags on their heads which they shook in time to the music and there were two guests performing on stage with her.
The first was world musician Toumani Diabate, who joined Bjork to play a gorgeous introduction to "Hope" on his 21-string kora. It was magical. Next was Antony Hegarty from Antony & The Johnsons, and his bird-like voice, who duetted with the pocket-sized Icelandic princess on "The Dull Flame Of Desire". Also magical. We all felt like we'd witnessed a rare treat!
Bjork's unique and beautiful vocals were even more stunning in person than they are on record, I can't get over that voice. She transformed it from frantic and broken to smooth and gentle so easily between songs.
One of my many highlights was the beautiful "Jóga", during which I was completely transfixed by her (and her musicians') performance (check out a clip under the cut). I loved "Hyperballad" too, her energy was second to none... she was like a teenager up there, I forget she's 42(!).
To take a look at the set list, a clip of last nights show and more photos of the lady herself, just
Jóga
The Set List:
01. Intro - Brennið Þið Vitar
02. Earth Intruders
03. Hunter
04. Unravel
05. Hope
06. The Pleasure Is All Mine
07. Dull Flame Of Desire
08. Jóga
09. Vertebrae By Vertebrae
10. Desired Constellation
11. Army Of Me
12. Innocence
13. Who Is It
14. Vökuró
15. Wanderlust
16. Hyperballad
17. Pluto
encore
18. Anchor Song
19. Declare Independence