Blake Lively Is the New Gwyneth Paltrow
Why Blake Lively Is the New Gwyneth Paltrow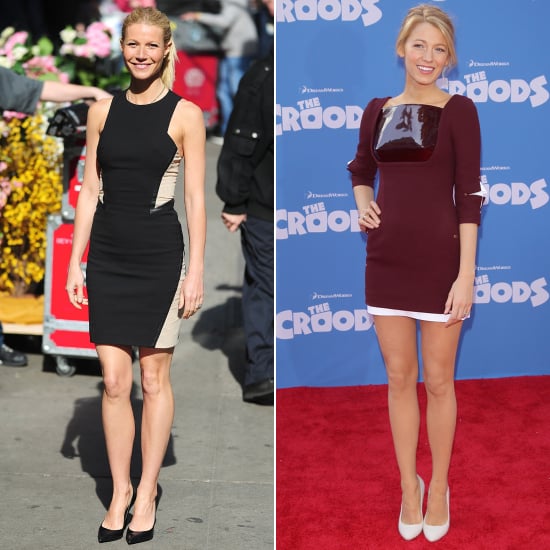 Source: Getty / Alo Ceballos and Getty / Jim Spellman
Blake Lively's new lifestyle venture, Preserve, is expected to launch later this month. The actress's new project is already drawing comparisons to Gwyneth Paltrow's lifestyle brand, Goop, even though Blake's venture hasn't even been released to the public yet. While it's hard to compare the two companies when we haven't even seen Blake's new venture, we have noticed a lot of similarities between the two actresses over the years. From their family connections to Hollywood to their love of cooking, Blake and Gwyneth have a lot more in common than you would think. Here are our reasons why the former Gossip Girl star is destined for Gwyneth-level greatness.
They Kinda Look the Same
Let's start with the obvious, shall we? Both Blake and Gwyneth are blond, have blue eyes, are naturally tall and thin, and have wide, friendly smiles. If we didn't know any better, we would guess that these two are sisters.
They Both Were the Pretty, Popular Girl in High School
A commenter on Reddit who claimed to have gone to high school with Blake said she was "super pretty and very popular," adding that she was "really nice and actually really funny . . . she was voted class clown in the yearbook." Meanwhile, Gwyneth's time at Spence in NYC was infamously profiled by New York magazine, where she was remembered by anonymous former classmates as popular and "six feet tall with blonde hair down to her waist."
They Love to Cook
Blake Lively famously won over Ryan Reynolds by baking him cupcakes on the set of Green Lantern. She has also studied cooking at Le Cordon Bleu in Paris and whipped up a tasty-looking pastry for Vogue's web series Elettra's Goodness. Of course, Gwyneth's love of food is well-documented as she's written two cookbooks.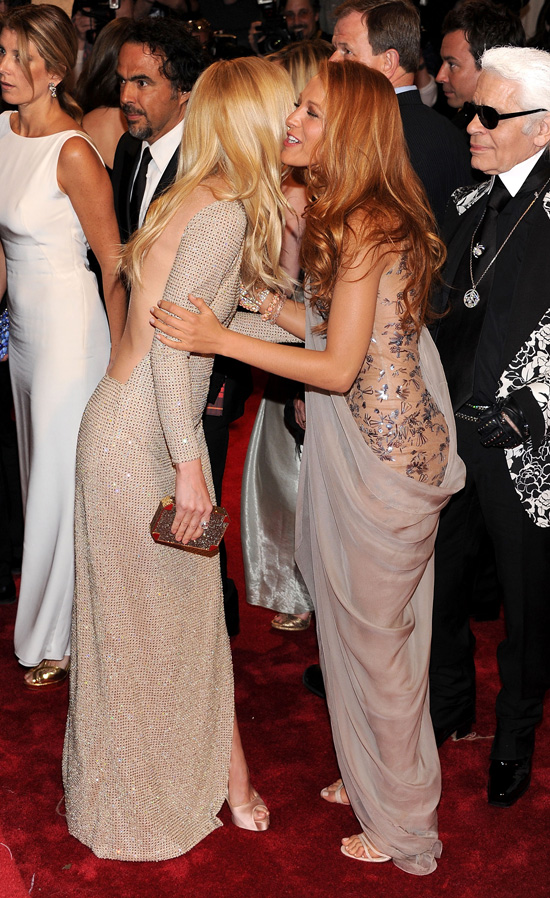 Source: Getty / Dimitrios Kambouris
They Come From Famous Families
Gwyneth is the daughter of actress Blythe Danner and producer Bruce Paltrow. Blake is the daughter of actor Ernie Lively and is the half-sister of actress Robyn Lively, aka Louise from Teen Witch.
They Made Films With Their Dads
Blake costarred in Sisterhood of the Traveling Pants with her dad, Ernie, who played her fictional father in the film. Meanwhile, Gwyneth worked with her dad on the big screen when he directed her in 2000's Duets.
They've Both Dated Costars
Gwyneth started her first high-profile relationship at the beginning of her career when she got involved with Brad Pitt on the set of their 1995 film, Seven. Blake also got involved with a costar at the beginning of her career when she hooked up with Penn Badgley, her costar on Gossip Girl. She is also married to Ryan Reynolds, whom she met on the set of Green Lantern.
They Are Both the Face of Designer Fragrances
Blake Lively is currently the face of Gucci Première, while Gwyneth is rivaling the actress with TV spots for Hugo Boss's Boss Nuit Pour Femme. Interestingly enough, the ads for both of the campaigns feature the two blond beauties standing in front of a window, looking over an impressive city view, while wearing a fabulous gown.
They Had Surprise Weddings
Blake and Ryan shocked the world when they announced that they had gotten married in a secret ceremony last September. At the time, no one even knew that Blake and Ryan were engaged, and the ceremony and reception was only known about by a group of friends and family. Gwyneth took it one step further back in 2003 when she wed Chris Martin in Santa Barbara. The two got hitched at a hotel in a ceremony so secret and whirlwind that not even their parents attended the wedding.
Front Page