Book Review of Girls Aloud's Autobiography Dreams That Glitter Our Story
Pop Read: Dreams That Glitter by Girls Aloud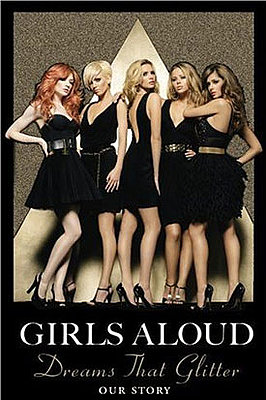 All five members of Girls Aloud have released a joint autobiography, charting their rise to fame since winning ITV's Popstars: The Rivals back in 2002.
Although I'm a fan, I have to admit I didn't have great hopes for this autobiography. Could it really work, all five of them presenting their individual and group stories in just one book? Would there even be any honest, interesting and insightful moments, or would it all be censored?
I'm pleased to report that Dreams That Glitter delivers the goods. It's divided into several themed and chronological sections, with chapter titles like "Girls on a Mission" and "Girls in Love". These are punctuated by sections devoted to each of the girls, where we learn about their childhood and read their individual Q&A.
Another clever device is that each member has her own self-contained paragraphs, so rather than presenting us with a rambling text full of all of their voices, we get an easy to follow narrative. As it's laid out so clearly, you even have the option of following just one member's story throughout the whole book, and then starting again with another thread. Although I have my favourites, all of their stories are interesting.
To find out more about the book just read more.
The aspect I enjoyed most about this book is how honest and straightforward the girls are. I really felt like I got to know Cheryl, Kimberley, Nadine, Nicola and Sarah a whole lot better, and I was surprised at how normal they all come across. As someone who is a similar age to the popstrels, I found myself relating to their stories, because a lot of the book is about the kinds of emotions, challenges and difficulties we all face as we grow up and become adults.
As I neared the end it did start to become a bit repetitive, with the same "everything happens for a reason" message continually popping up, but on the whole the book keeps the pace quick and the content interesting. There is also a good balance between the text being in the voice of each individual, but not being too jarring to go from one member's section to the other, making it an easy style to read.
It's not only fans of Girls Aloud who'll enjoy this book; I'd also recommend it to those of you with an interest in how TV talent shows work and what happens behind the scenes in the music industry, and those of you who just love celebrity autobiographies.