Brad Pitt Angelina Jolie Engagement Ring Details
Report: Brad Pitt and Angelina Jolie Are Engaged — All the Ring Details!
UPDATE: Brad and Angelina's engagement has been confirmed. His manager Cynthia Pett-Dante said, "Yes, it's confirmed. It is a promise for the future and their kids are very happy. There's no date set at this time."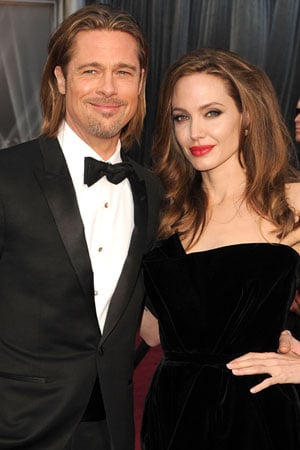 Brad Pitt and Angelina Jolie are engaged, according to The Hollywood Reporter. The magazine confirmed the news with a rep for the jeweler Robert Procop, who says he designed the stunning diamond ring in collaboration with Brad.
The rep says, "I can confirm that, yes, Robert Procop did indeed design an engagement ring for Angelina Jolie, designed in collaboration with Brad Pitt . . . Brad had a specific vision for this ring, which he realized over a yearlong collaboration. He wanted every aspect of it to be perfect, so I was able to locate a diamond of the finest quality and cut it to an exact custom size and shape to suite Angelina's hand. Brad was always heavily involved, overseeing every aspect of the creative design evolution. The side diamonds are specially cut to encircle her finger. Each diamond is of the highest gem quality."