Breaking Dawn Poster
Breaking Dawn News: New Poster Is Here, Trailer on the Way!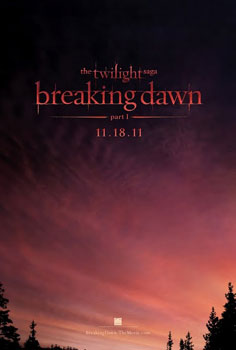 I've got some goodies for those of you who are on the edge of your seats for a preview of the next Twilight movie. Summit has just released the first poster for Breaking Dawn Part I, along with the news that the first teaser will air during the MTV Movie Awards on June 5. The Twilight cast has had an excellent showing at the Movie Awards in the past few years, so I'm not surprised that MTV is going to keep milking the franchise while there's still time (plus, odds are good that Robert Pattinson and Kristen Stewart will be taking home that best kiss award yet again). I can't wait for a glimpse at Bella and Edward's wedding and honeymoon (and, let's admit it: the pregnancy). As for the poster, well, it's not much, but at least it's a reminder that we're only a few months away from the big November release.
To see a bigger version, just read more.