Breaking News: Amy's Blake Incarcerated For 27 Months
Breaking News: Amy's Blake Incarcerated For 27 Months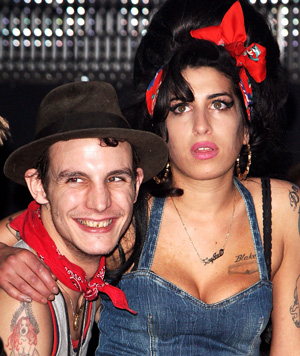 Blake Fielder-Civil has been jailed for 27 months for perverting the course of justice and attacking the landlord of a pub. He has already spent nine months in remand, and pleaded guilty to attacking the man in Hoxton and to later trying to convince him to withdraw his complaint with a £200,000 bribe.
The Judge said that Blake was high on alcohol and cocaine when he and his friend attacked the landlord outside the pub. He also said that Blake had acted out of "a mistaken sense of loyalty" to his friend, and that he behaved in a "gratuitous, cowardly and disgraceful way".
Blake's lawyer said that the attack was out of a "drugs-ridden lack of judgement, rather than callousness", and that it is Blake and Amy's ambition to "divorce themselves of hard drugs, not to separate themselves from each other." Amy was not present as the sentence was read out today, but lets hope the two of them achieve their ambition.