Britney Spears Interview For The X Factor
"Britney's Quite Mean" and the Best Quotes From the X Factor Judges
American Idol isn't the only reality singing competition that is getting a makeover: Simon Cowell's US version of The X Factor will get a new life thanks to judges Britney Spears and Demi Lovato. The competition will be tougher than ever with The Voice getting a Fall season, but at the show's panel at the TCA, Cowell seemed confident about the changes he's made to the show. He noted that Spears and Lovato both bring a lot of personality to the show; Spears has always been his dream judge, and Lovato has her fingers firmly on the pulse of pop music.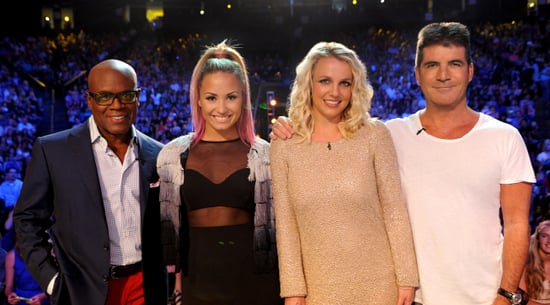 Of course, it wouldn't be a press conference without some banter (and zingers from Cowell), so check out the best lines of the panel:
"I've always said the number one person I wanted was Britney because I was fascinated with her as a person and a pop star." — Cowell on why he wanted Spears on the show
"Britney's quite mean, which you'll discover. As sweet as a lemon." — Cowell, on what Spears brings to the table
"I think it's just based on who I am and my personality. In everyday life I'm just an honest person." — Spears, on Cowell's accusations that she's a mean judge
"Demi is a brat." — Cowell, on what Lovato is like as a judge
"Don't mention The Voice." — Cowell, when Lovato was asked if she watches other singing competitions
"No, we did not have to wear ears. No ears involved." — Spears, comparing X Factor boot camp with Mickey Mouse Club boot camp
More quotes, including Cowell's reaction to Idol's newest judge, when you read more.
"I plan to audition for X Factor with that song." — LA Reid, on slamming one of Lovato's songs on the last season of the show
"I'm happy for her actually. I like Mariah. I think she's going to find it difficult to say no. She's sweet. But I think she'll be great. We're all happy for her." — Cowell, on the news that Mariah Carey will judge American Idol
"Because it's such a young show, it needed someone younger, because I'm in my 30s." — Cowell, on why Lovato was chosen as a judge