Britney Spears Talks About Jason's "Ripped" Bod and Femme Fatale on Seacrest
Britney Spears Talks About Jason's "Ripped" Bod and Femme Fatale on Seacrest
Ryan Seacrest lived up to his busiest man in Hollywood reputation this morning, hosting Britney Spears on his radio show today after celebrating American Idol's top 13 last night. The V magazine cover girl chatted all about her boyfriend, Jason Trawick, and how he keeps his shirtless physique in such good shape. She also shared about her own workout regimen and her excitement on working with Will.i.am on her new album Femme Fatale, which is out on March 29. She and Ryan listened to her new single, "Till the World Ends," which you seem to be loving. Britney said: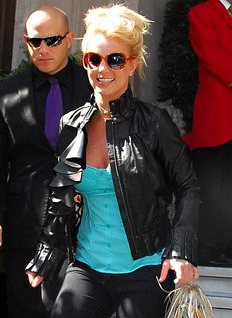 On Jason Trawick after Ryan said he used to be bigger: "He wasn't pudgy . . . He's definitely ripped. He just got on this health kick I guess . . . He eats what he wants."
On what she and Jason do in their downtime: "We're really normal. We just like to just catch movies, we work out a lot, we love to work out and do stuff together like that. We take walks."
On how she stays in such good shape: "I just got back from the gym! I'm in sweats right now . . . I have a trainer. I'm on the treadmill for like 30 minutes and we do a lot of cardio and running. He kicks my butt . . . You pay to hate your trainer, it's so odd."
On working with Will.i.am: "Oh my God, he's amazing! He's so much fun, and he's funny. He's a charm. I love him, he's great. I love the Black Eyed Peas so when they told me I'd be working with him I was just like, 'Oh my God, I can't wait!'"
Make sure to check out her full interview over on Ryan's site!