Captain America The Winter Soldier Set Visit
We've Got 3 Good Reasons to Look Forward to the Captain America Sequel
In a world full of superhero movies, Captain America: The Winter Soldier might be one of the most anticipated of 2014. We spent a day on the set of the action film last year with its stars Chris Evans, Sebastian Stan, and Anthony Mackie and talked with the trio in between takes about being a part of the Marvel universe, working with Scarlett Johansson, and why this film spells a departure from the original.
During our afternoon on the set, we bore witness to Evans and Mackie filming some especially intense scenes that happen toward the end of the movie, and I think it's safe to say that the second installment in Cap's adventures promises a lot more grit and thrills than the original. The directors, brothers Joe and Anthony Russo, described the movie as "hard-hitting" and "aggressive," with a focus on handheld camerawork and a cinema verite field. This new vision of Captain America's world isn't the only all-new aspect of the sequel either. While Stan and Evans are along for the ride for a second time, we're also seeing some new faces in the cast, including Mackie and even a cameo from Robert Redford. Read on for more from our conversations with the guys.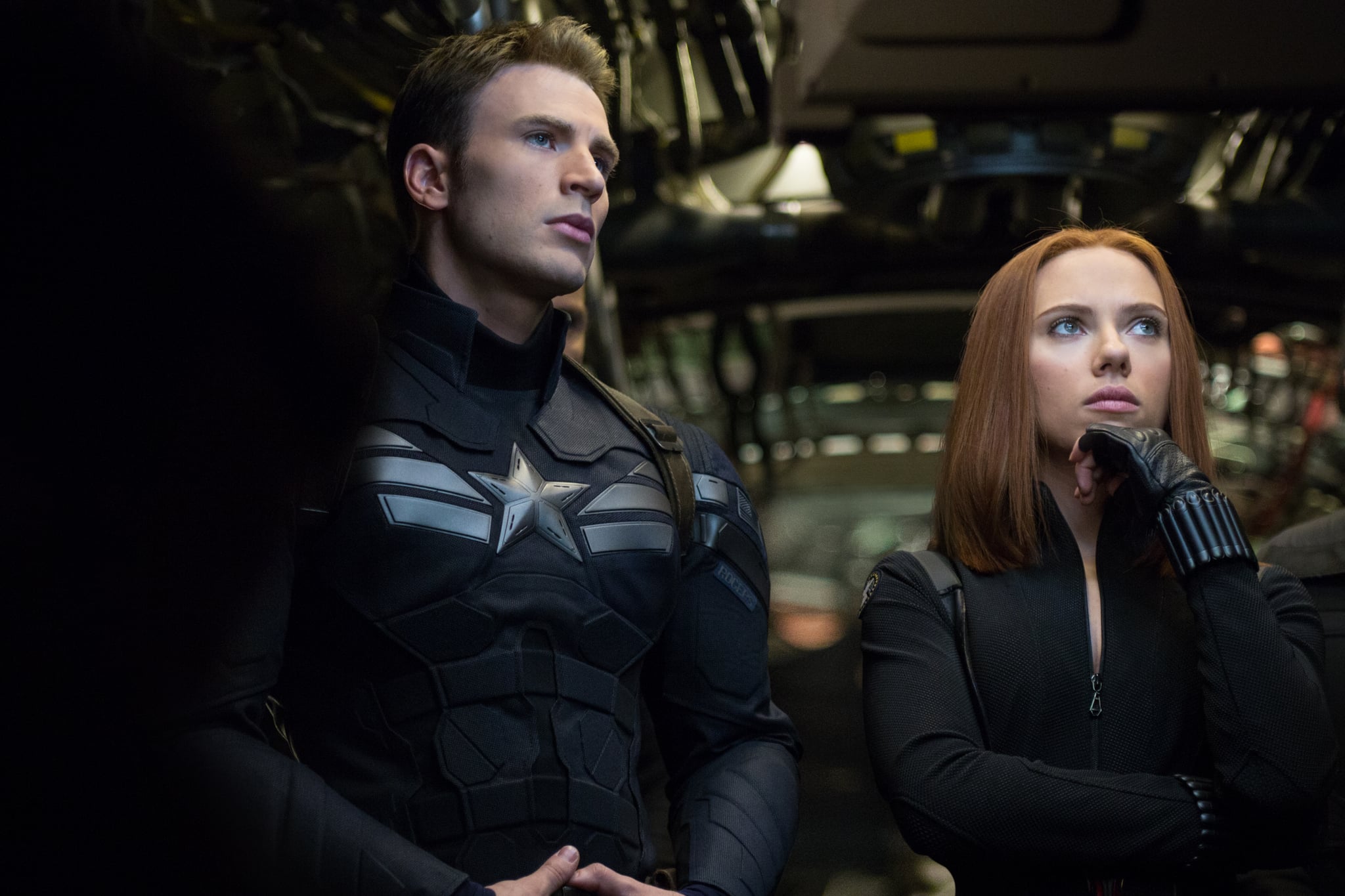 Evans on His Costume-Related Insecurities
Cap has an all-new suit in The Winter Soldier, but Evans admitted he took a little bit to come around to the idea. "I always thought I kinda had big Dumbo ears, and whenever they tried the helmet with the ears out, I was like, 'Please don't make me do this. I look so silly.' But they did some really good things. It looks a lot better. The new suit does have the ears out, and it actually looks OK. I was like, 'OK, I can live with this.'"
Evans on Putting His Dance Background to Good Use
Evans grew up surrounded by dance; his mom taught classes in his hometown, and he's even admitted to a particular skill level in tap. When we sat down with him on set, he compared his training for the second film's new, hand-to-hand-centric action sequences to ballet. "It was a bit of a chore, but it was fun. I mean, I was excited," he said. "They put me in gymnastics classes, and we were doing combat stuff every day for a few months, and it's a lot of fun, because when you get the dance down — and all it is is dance, really — choreography. Once you get the dance down you can start working on the acting, you know what I mean, because you can't telegraph a block or a punch. You have to show that you've been hurt. When it's sharp, when it's neat, it just feels so good. It feels great. It feels like dancing, and it just looks so good. We have such good stunt coordinators and choreographers."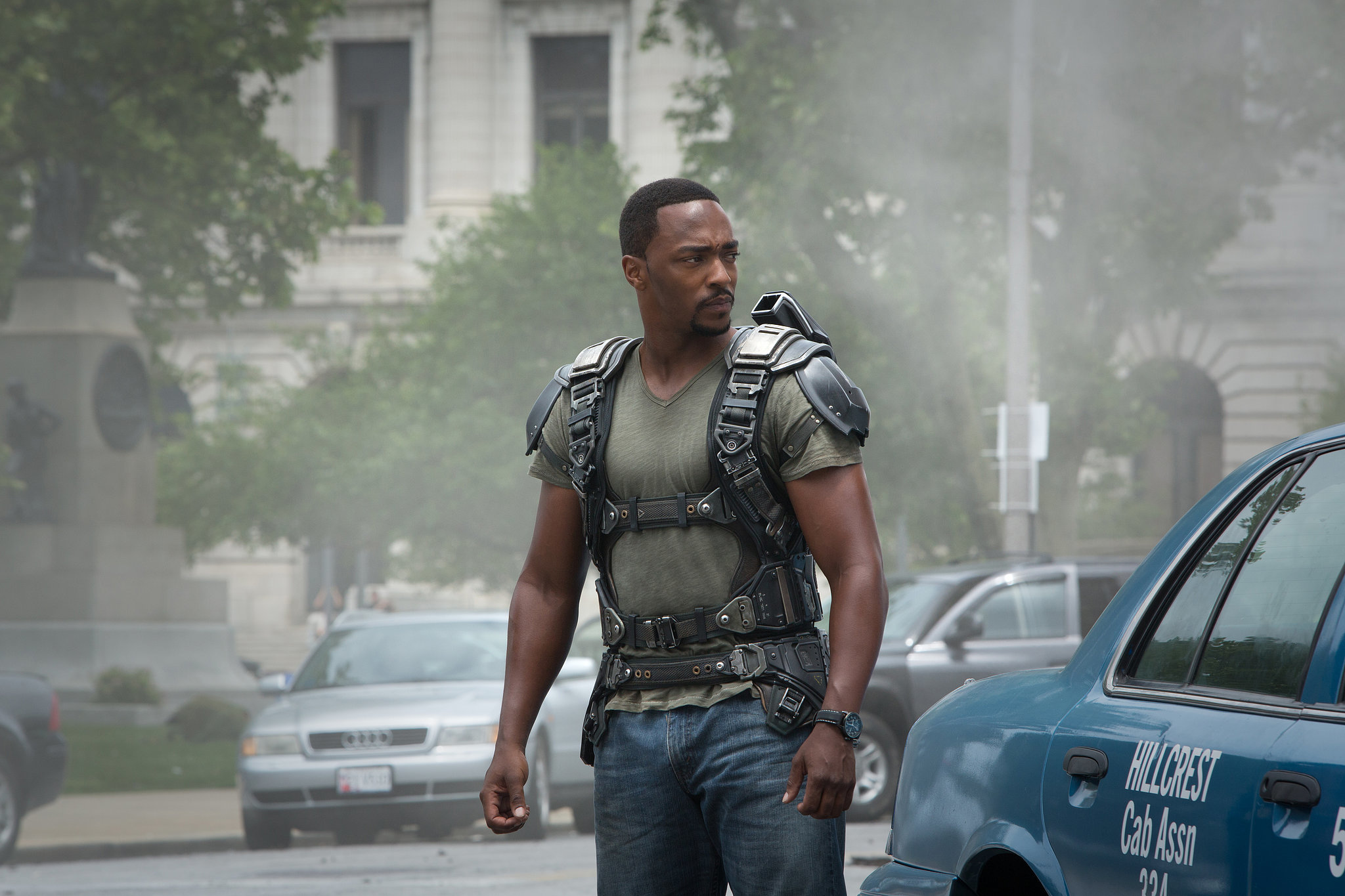 Mackie on Joining the Franchise
Mackie is joining the Marvel universe in this movie as The Falcon and told us he has been familiar with the superhero since he was a kid. "My brother was one of those comic book guys that had a bunch of comic books. And I always knew about The Falcon and Black Panther but primarily The Falcon just simply because he was an African-American superhero, and my brother was really big on, like, being black. So, I knew about him," Mackie told us. So how did his brother react when he got the part? "Oh, he was super excited. He loved the character, and he loved comic books. When I was a kid, I destroyed all his comic books, so he was happy to think that I would be able to rebuy his comic books for him."
Mackie on Whether He'll Be in Avengers 2
Speculation about which characters from Marvel's cadre of comics might appear in the second Avengers has been rampant, so we asked Mackie if he knew whether he'd made the cut. "I hope that's so true. But this is the best thing about Marvel as a whole. They tell you absolutely nothing. I mean, I didn't even know I was shooting today until today!" he joked with us. "If I'm in Avengers 2, everyone will know it, 'cause I'm gonna run through Times Square butt-ass naked with Avengers 2 tattooed across my chest."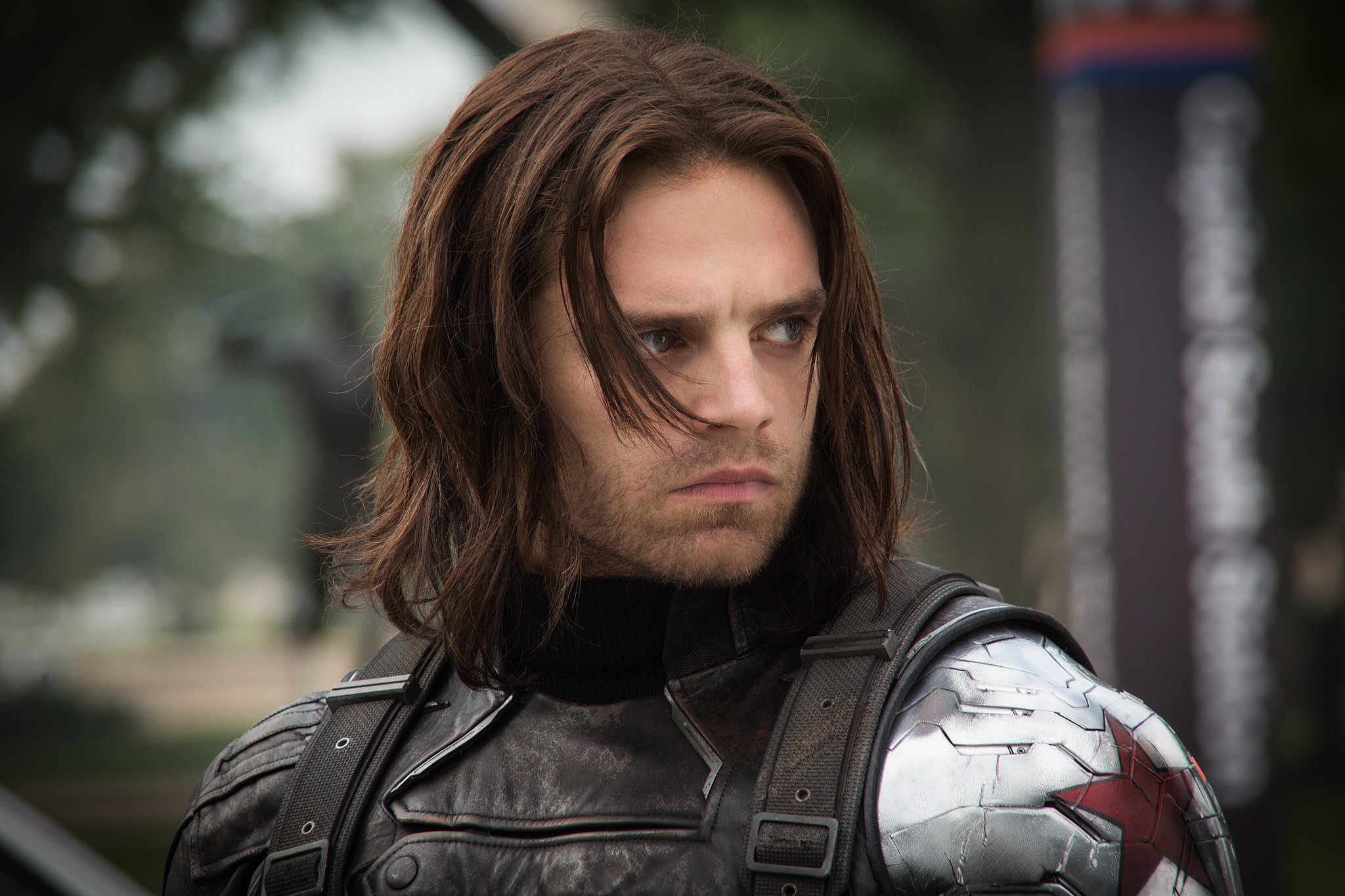 Stan on His New Look in the Sequel
Stan's look as the Winter Soldier is a far cry from his appearance as Bucky in the first Captain America movie. The transformation is one Stan told us he welcomed. "I was very open to it. Obviously, I've never had long hair. As an actor, the thing is, you've gotta get out of that comfortability level once in a while. I was really excited to sort of not recognize a little bit of myself when I looked in the mirror."
Stan on His Friendship With Evans
"It's like no time's gone by. It's really neat," Stan said of his buddy Evans. "We just see each other when we go, 'Round two. Here we go.' And then we're back to where we were. If anything, we just grew up a couple more years, and then funny enough, you find that that experience makes its way into the character as well, which is appropriate in a weird way because some time has gone by."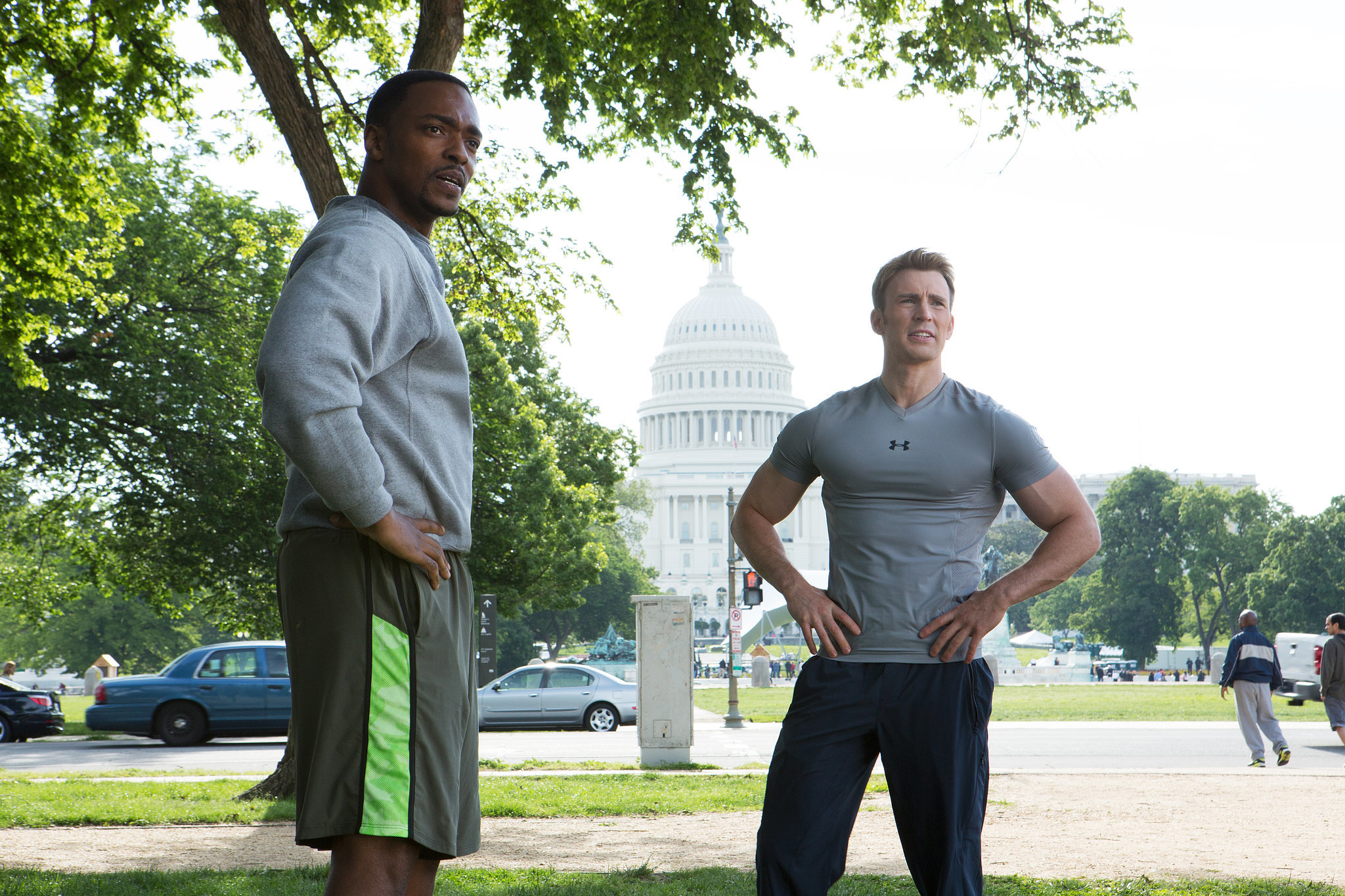 Evans on Coming Around to the Idea of Fame
Evans notoriously debated whether or not to sign on to play Captain America, worried about giving up his anonymity and forgoing other opportunities for the franchise. But today, he says, he has no regrets. "I'd really be kicking myself if I hadn't done this," he told us, relaxing on set in costume after a particularly demanding take, Cap's shield by his side. "You know, it was just a matter of adjusting to lifestyle changes and you know, my team told me this in the beginning, because they knew I was apprehensive, too; they said it comes in waves. You gotta respect the fact that when a movie comes out, there's gonna be a surge, and there's gonna be some changes, but then it's gonna go away. It'll die back down just like any actor. When a movie comes out, you get a little bit more of a spotlight on you, then it goes away. So you can monitor it. It's not like once these movies are out, your life is forfeited and you don't have any more control. So you just gotta take those periods of time in stride and understand that it'll pass and things will go back to a relative level of normalcy."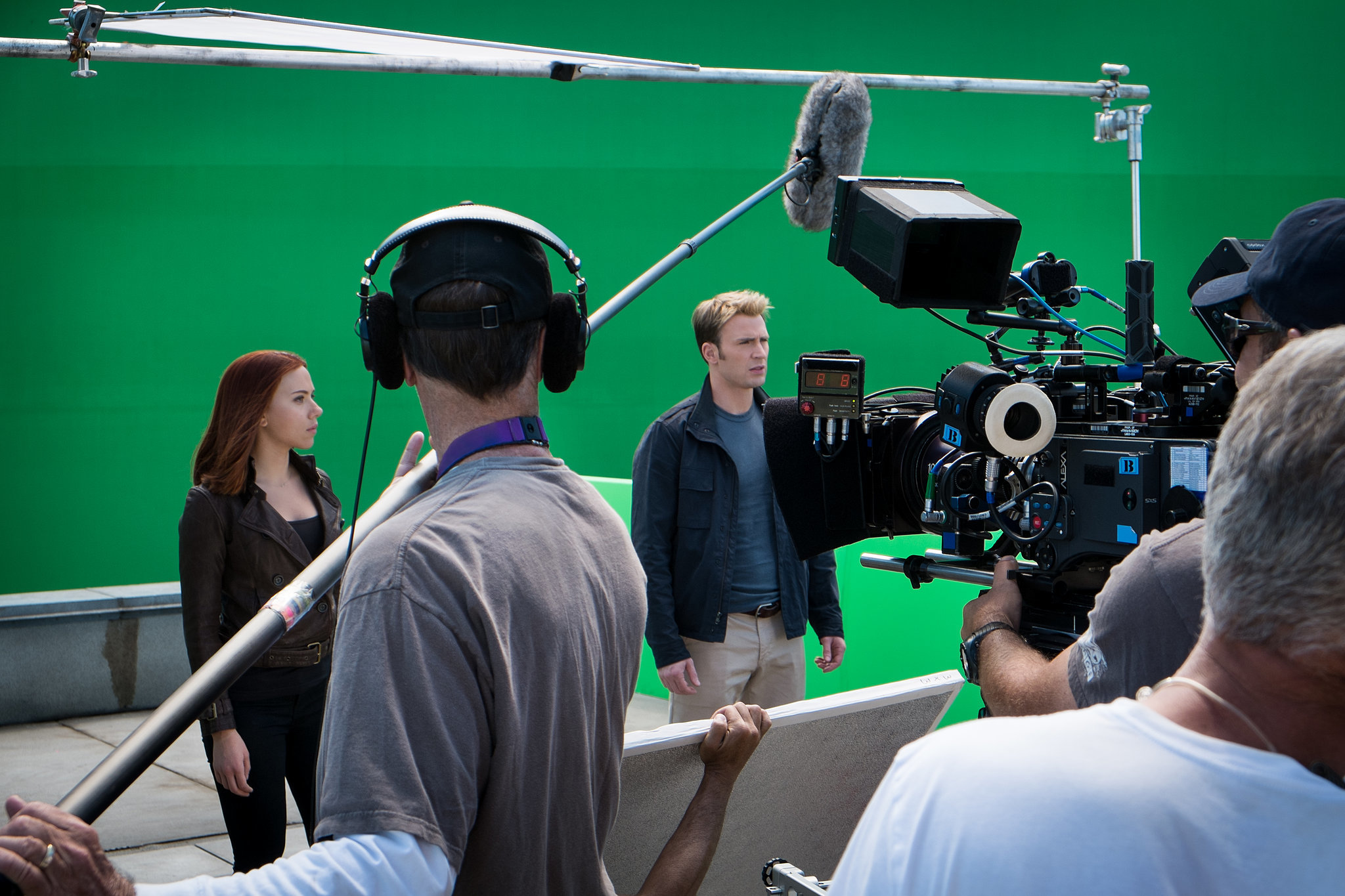 Evans on His Costar Scarlett Johansson
Johansson is back in her role as Black Widow in The Winter Soldier. In the past, she's always provided a moral foil to Cap's black-and-white view of the world, and Evans told us that in this film, she'll also encourage him to find himself outside of his work. "My favorite scenes are the scenes with Scarlett," he explained. "The Russos could be blowing smoke, but it sounds like they agree. It's just nice; it's nice moments where her and I both — our characters both — have issues in this movie. It's just such an odd pairing. We're such different people. Her moral compass is for sale, and Steve is a boy scout. So it's interesting to see what they find in each other. And outside of the movie, Scarlett and I have known each other for a long time — we just constantly make jokes about how many movies we've made together, so it's very effortless. We get along very well, and I think that shows on screen."