Catching Fire Victory Poster With Katniss and Peeta
Catching Fire Alert: See Katniss and Peeta in a New Hunger Games Poster!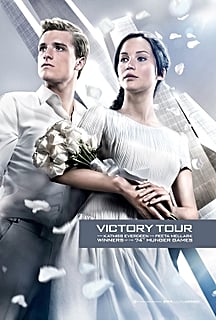 Hunger Games fans, get excited! Catching Fire may not be coming out until November, but today we get to see an exciting new poster for the sequel. It features Katniss (Jennifer Lawrence) and Peeta (Josh Hutcherson) in what looks like the Capitol's poster for their Hunger Games Victory Tour. Naturally, they look like the winners they are: cleaned-up, well-dressed, and close enough to each other that you'd believe they were in love. While I've been enjoying seeing Lawrence on the award-show circuit, this poster reminds me that what I really can't wait to see her in is this movie. Check out a larger version of the poster and let me know what you think after the jump.