Celebrities Are Having All Kinds of Reactions to Kim Kardashian's Bare-Butt Photo
Celebrities Are Having All Kinds of Reactions to Kim Kardashian's Bare-Butt Photo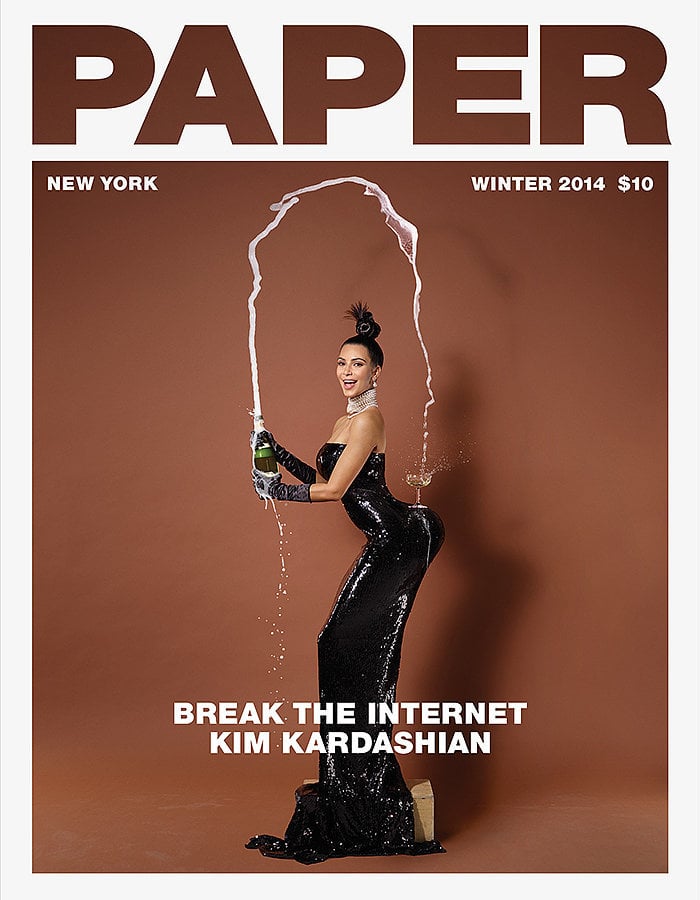 Source: Paper / Jean-Paul Goude
Kim Kardashian is busy trying to "break the Internet" with her Paper magazine photo shoot, and although the Internet is still up and running, she has gotten a lot of attention from stars on social media. On the one hand, celebrities like Lorde and Naya Rivera expressed an issue with the NSFW picture, with Naya posting a comment on Instagram: "I normally don't. But . . . you're someone's mother." Meanwhile, other stars took a more comedic turn. Chelsea Handler posted a bare-butt picture of her own, Dane Cook photoshopped a new version of the photo, and Damon Wayans Jr. shared some creative suggestions. Take a look at the best meme reactions from across the Internet, plus how celebrities are reacting to Kim's buzzed-about picture.
Lorde
"@KimKardashian: #BreakTheInternet http://t.co/3RhAPqJkPn" mom

— Lorde (@lordemusic) November 12, 2014
Chelsea Handler
Damon Wayans Jr.
If this pic was scratch and sniff, it would DEFINITELY break the Internet. @KimKardashian pic.twitter.com/WzpxUgFKC0

— Damon Wayans Yunior? (@wayansjr) November 12, 2014
Dane Cook
Ohhhhh riiiiiiight Kim K. More like this before photoshop. pic.twitter.com/doatrcde2Y

— Dane Cook (@DaneCook) November 12, 2014
Naya Rivera
Naya left a comment on Kim Kardashian's Instagram pic pic.twitter.com/FaZ65ZUcxN

— Naya Rivera D. News (@NayaRiverasNews) November 12, 2014
Jim Gaffigan
The internet doesn't appear to be broken for me. Slightly manipulated? Yes.

— Jim Gaffigan (@JimGaffigan) November 12, 2014
Billy Eichner
If ur already as sick of looking at that pic of Kim Kardashian as I am here's a pic of Bob Hope to cleanse the palate pic.twitter.com/z4Kzl99gze

— billy eichner (@billyeichner) November 12, 2014
Kanye West
#ALLDAY pic.twitter.com/bQZK8lnNfB

— KANYE WEST (@kanyewest) November 12, 2014