Celebrity Reactions to Nelson Mandela's Death
Celebrities React to Nelson Mandela's Passing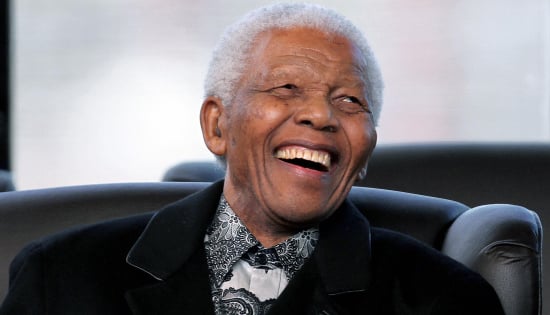 Following Nelson Mandela's passing at age 95, celebrities have taken to Twitter to share thoughtful words and tributes about the great world leader. President Barack Obama called Mandela "a man who took history in his hands," while stars like Kerry Washington, Jennifer Lopez, and Jamie Foxx thanked him for his impact on the world.
Prince William, who had just viewed a screening of the new film Mandela: Long Walk to Freedom with Kate, said after receiving the news, "It's obviously extremely sad and tragic news. We were just reminded of what an extraordinary and inspiring man Nelson Mandela was, and my thoughts and prayers are with him and his family." Read more heartfelt celebrity messages below.
President Obama remembers Nelson Mandela: "A man who took history in his hands and bent the arc of the moral universe towards justice."

— Barack Obama (@BarackObama) December 5, 2013
RIP Nelson Mandela. God Bless You. http://t.co/yRZh3RrP7K

— kerry washington (@kerrywashington) December 5, 2013
For more tweets, just keep reading.
"It always seems impossible until it's done." Rest in Peace Nelson Mandela. You will be missed. #trueinspiration #peoplewhochangetheworld

— jlo (@JLo) December 5, 2013
Today we lost the world's greatest advocate for peace and change. Nelson Mandela was a hero to so many. Rest in peace.

— Ellen DeGeneres (@TheEllenShow) December 5, 2013
#RIP Nelson Mandela. The best example of a human being I can think of. The world is a better place because of you. Thank you

— Sarah Michelle (@SarahMGellar) December 5, 2013
#NelsonMandela you made your people proud!! We'll always love you for it!

— Rihanna (@rihanna) December 5, 2013
Rest in Peace Mr. Nelson Mandela. A fearless leader, incredible human being, inspiration, a REAL hero. Truly one of a kind. God bless you.

— Jamie Foxx (@iamjamiefoxx) December 5, 2013
It always seems impossible until it is done. --Nelson Mandela

— Donald J. Trump (@realDonaldTrump) December 5, 2013
rest in peace Nelson Mandela.

— Kendall Jenner (@KendallJenner) December 5, 2013
Rest in peace Nelson Mandela. He will always be remembered and will continue to show people to fight… http://t.co/GdtLGtw9i7

— Cara Delevingne (@Caradelevingne) December 5, 2013
RIP Nelson Mandela. You are now truly free. God Bless and enjoy the heavens. Tell Celia Cruz hello for me and azucaaaaarrrr

— Pitbull (@Pitbull) December 5, 2013
The world has lost someone truly inspiring. Rest in peace Nelson Mandela

— Enrique Iglesias (@enrique305) December 5, 2013
In the modern age, Nelson Mandela will be remembered as an unsurpassed healer of human hearts.

— Mitt Romney (@MittRomney) December 5, 2013
There were only 3 people that I wanted to meet in life, Nelson Mandela was one of them.

— Tyler Perry (@tylerperry) December 5, 2013
When the world gave #NelsonMandela their worst, he showed us all his best. A thousand years from now mankind will still revere him...

— Andre Agassi (@AndreAgassi) December 5, 2013
There will never be another Nelson Mandela. A true hero that has been deeply ingrained into our history. Thoughts are with his family,

— Kevin McHale (@druidDUDE) December 5, 2013
"The greatest glory in living lies not in never falling, but in rising every time we fall." #NelsonMandela

— Hillary Scott (@HillaryScottLA) December 5, 2013
"It always seems impossible until its done"- Nelson Mandela Angel your impossible work, that u made possible is now done. RIP

— bella thorne (@bellathorne) December 5, 2013
Every time Melinda and I met Nelson Mandela, we left more inspired than ever. His grace and courage changed the world. This is a sad day.

— Bill Gates (@BillGates) December 5, 2013
President Mandela's life is the closest thing we have to proof of God. http://t.co/ce8FyjCzN1 pic.twitter.com/qg6Of20xL9

— Arnold (@Schwarzenegger) December 5, 2013
"The greatest glory in living lies not in never falling, but in rising every time we fall." RIP Nelson Mandela

— Russell Simmons (@UncleRUSH) December 5, 2013
What a good head and heart he had.... "A good head and a good heart are always a formidable combination." Nelson Mandela

— Dianna Agron (@DiannaAgron) December 5, 2013
Thanks for your inspiration, friendship & the joy you brought into our lives http://t.co/UxWxoMjbBv #RIPNelsonMandela

— Richard Branson (@richardbranson) December 5, 2013
RIP Nelson Mandela. The world has lost a great hero.

— Nicky Hilton (@NickyHilton) December 5, 2013