Channing Tatum PeopleSexiest Man Alive
Channing Tatum Is People's Sexiest Man Alive — Do You Agree?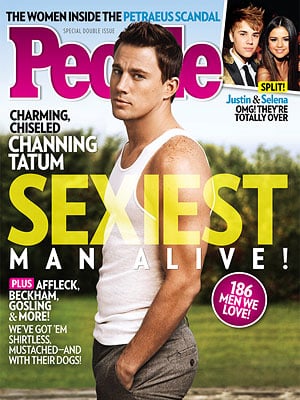 It's official: Channing Tatum is People's Sexiest Man Alive 2012! Rumor swirled that the Magic Mike star would be next in line for the crown and it was confirmed with the reveal of this hot cover this morning. At 32, Channing is taking over the title from last year's winner, Bradley Cooper. The ever humble Channing spoke about the honors, saying, "My first thought was, 'Y'all are messing with me.'"
He also spoke to the magazine about being ready to start a family with wife Jenna Dewan. "I'm ready; I think she's ready. The first number that pops into my head is three, but I just want one to be healthy and then we'll see where we go after that. It's really easy for us guys to say, 'I want like 15 kids.' Jenna will be like, 'Well you better get another wife!'"
So do you agree with the pick of Channing for Sexiest Man Alive?