Charlie Hunnam Shows Sweet Appreciation For a Fan's Sons of Anarchy Tattoo
Charlie Hunnam Shows Sweet Appreciation For a Fan's Sons of Anarchy Tattoo
Amazing video courtesy of @cosmicgirrrl! Look at that HAIR #CharlieHunnam @ECharlieHunnam @HunnamDaily @HunnaMmm pic.twitter.com/bjqOca4fzr

— Charlie Hunnams Hair (@Hunnamshair) September 13, 2015
Charlie Hunnam was all smiles when he greeted a group of excited fans in Northern Ireland on Sunday. The sexy star has been busy filming The Lost City of Z in Belfast, and he's been spotted on set with Robert Pattinson, his handsome costar. This weekend's sweet fan interaction came when Charlie pulled up alongside a group of people, rolling down his window and waving from the backseat of a car.
The actor took some time to sign autographs and chat with everyone, and at one point, a fan showed off his tattoo of Jax Teller, Charlie's Sons of Anarchy character. Charlie definitely approved of the impressive ink, saying, "Solid tattoo, mate. Who did that tattoo? Fantastic job . . . Right on, man." Later, the tattooed fan tweeted his excitement, writing, "I just met Charlie Hunnam, showed him my JAX tattoo and he loved it! Got photos and autograph!!" He also shared a picture of the awesome ink, which depicts Charlie lighting up a cigarette as Jax.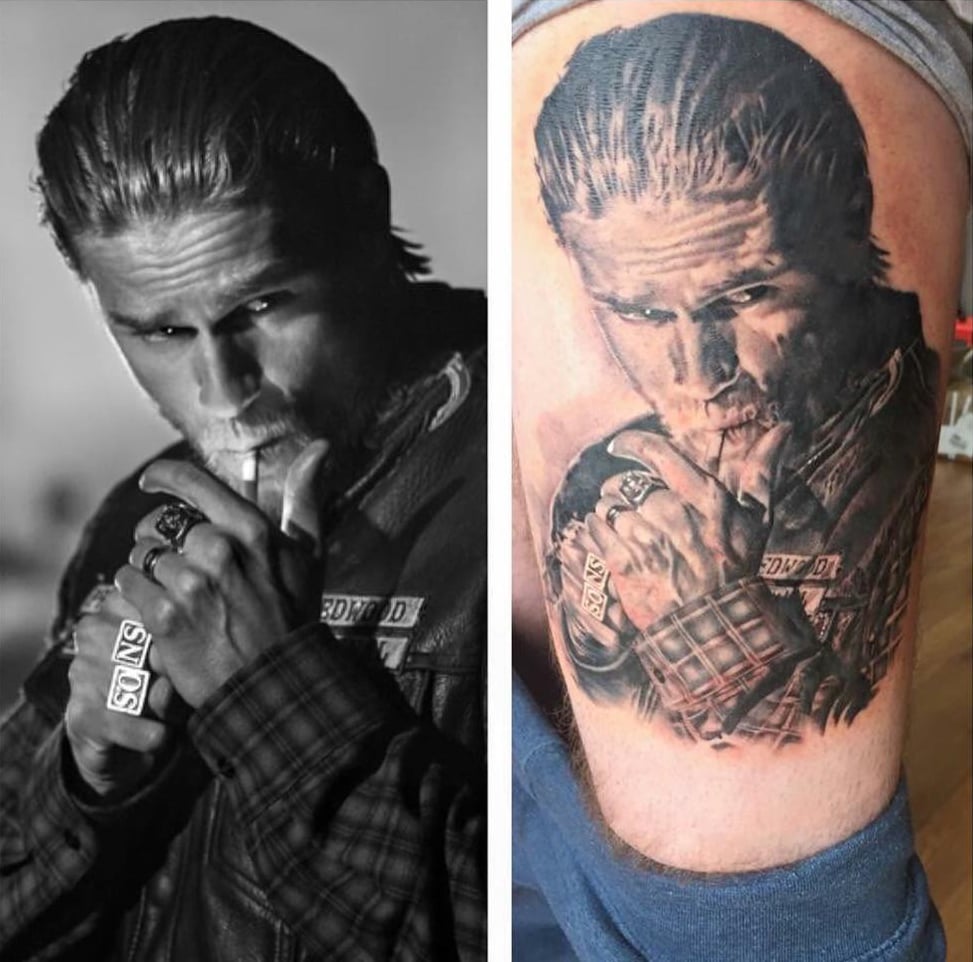 Charlie's fun fan encounter came just a few days after his sexy V magazine spread was revealed. In his interview with the publication, Charlie opened up about dropping out of the 50 Shades of Grey film, and he went shirtless for the must-see photo shoot, adding to his long list of hot moments from over the years.