Charlie Hunnam at the Sons of Anarchy Season 6 Premiere
Charlie Hunnam Finally Speaks Out on Playing the "Empowered" Christian Grey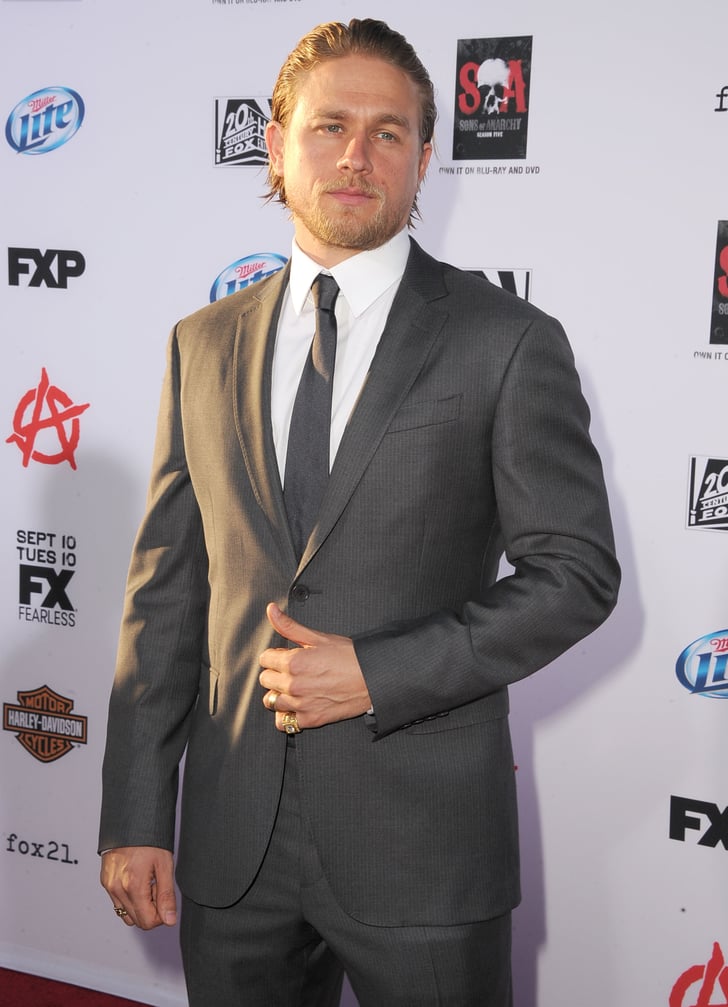 Charlie Hunnam hit the red carpet for the Sons of Anarchy season six premiere in LA on Saturday. The actor cleaned up nicely — really nicely — for the event, making us wonder if he could be giving us a preview of his clean-cut Fifty Shades of Grey character, Christian Grey. At the premiere, Charlie spoke out for the first time about playing the lead role in the film adaptation, telling ET Online that he is "so excited to be entrusted with this empowered character."
After it was announced last week that Charlie would be playing the lead role in the film adaptation, it seemed as though the Internet was abuzz with feelings of confusion, anger, and disappointment. Most of the backlash stemmed from the fact that Charlie, who portrays biker dude Jax Teller on the FX drama, doesn't quite have the same sleek, suave persona as Christian Grey does in the book (although he seemed to put his best foot forward for this premiere by stepping out in a crisp gray suit and slicked-back hair). Charlie addressed the mayhem, saying, "I had anticipated it — these books were a global phenomenon. I isolate myself, [so I] haven't been too aware of what's [going on in] social media." Well, Charlie, that's probably a good thing.
Charlie also revealed how he became Christian Grey and opened up about working with Dakota Johnson, who is portraying Anastasia Steele in the film. See more of Charlie's quotes — as well as photos of him looking hot on the red carpet — when you keep reading.
On getting the role of Christian Grey: "I met with [director] Sam Taylor-Johnson a couple of times. She'd asked to meet me, and we talked at length about the role, the movie, and what her intention was. I felt really intrigued and excited about it, so I went and read the first book to get a clearer idea of who this character was, and I felt even more excited at the prospect of bringing him to life."
On working with Johnson: "As soon as we got in the room and I started reading with Dakota, I knew that I definitely wanted to do it. There's just like a tangible chemistry between us. It felt exciting and fun and weird and compelling."
On telling his longtime girlfriend, Morgana McNelis, about the role: "I didn't tell her the news — she was a part of the decision-making process. It's very hard to be with an actor. She's required to share parts of me that she wouldn't really want to share, so of course, with the nature of this role, that's going to be times 10. So it was a decision we made together, but you know, she loved the books: she read them and loved them, and she was really excited at the potential of this opportunity for me, and if anything, I think it will bring us closer."
On the explicit nature of Fifty Shades of Grey: "My first job was on a miniseries called Queer as Folk, and it was incredibly explicit sexual scenes with a man. So if I could do it when I was 18 with a guy, I could certainly do it at 33 with a lady."
What do you think of Charlie's quotes? Are you beginning to see him as Christian Grey?