Christian Bale Missed Melissa Leo's Speech Because He Was at the Bar With Dicky Eklund
Oscar Press Room: Christian Bale Missed Melissa Leo's F-Bomb Because He Was at the Bar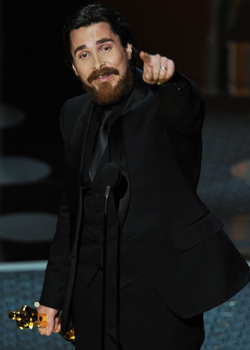 Christian Bale was in a happy mood as he celebrated his big win for best supporting actor back the press room. He's been busy filming The 13 Women of Nanjing in China, but he was overjoyed to return home from overseas to such a warm welcome. Bale also talked about how soon we can see Batman again, and admitted that he missed costar Melissa Leo's acceptance speech, because he was having a little too much fun with Dicky.
On the positive response to his performance: "It's just a genuine thing. I'm so flattered when any one person walks up to me [and says] they were really touched by a performance. I really love hearing that. What we do becomes so much bigger than ourselves, and I appreciate that so much. I've been in China, I haven't been part of the campaigning that's been going on. To just get back and hear people tell me how much it means it's just wonderful. This is a very bizarre thing, but at the same time, I can't help but be touched so dearly by it."
On whether or not playing Dicky Eklund is his favourite role: "Every single role that you do is a cherished friend. The point that I believe I made in the speech is that I was thanking David O. Russell for communicating our work so that it meant something to the audience. Because that's where you're out of control. You can do something that really rips you apart on set, but if the director and editors don't take it and make it mean something to the audience, then there is nothing."
On missing Melissa Leo's acceptance speech: "I was at the bar with Dicky [Eklund] and my wife, thinking that it was like the other awards were you could just walk on in and go out, but unfortunately I missed Melissa [Leo]'s acceptance speech, because they wouldn't let me in. I was literally banging on the door with Dicky going "Let us in!" but they wouldn't let me in, so that was my just mistake, and I'll know better if I ever return to the Academy Awards. So I missed the F-bomb, but I've laid down many of them myself before, so I think I know what it's all about."
On where he will keep his statue: "I know I'll get home and my daughter will say, thank you very much, and take that and stick it wherever she wants."
On a response to Charlie Sheen: "Like I said: been in China. No clue."
On how soon we can expect to see him back in the bat suit: "I'm in the middle of filming a movie in China right now, when I finish the movie in China it's straight on to Batman, so absolutely, much more Batman."