Colin Firth Talks About the Royal Wedding in the Oscar Press Room
Oscar Press Room: Colin Firth Says His Royal Wedding Invite Got Lost in the Mail
Colin Firth completed his successful award season sweep with his best actor Oscar for The King's Speech. Undoubtedly exhausted from the long award season, Firth shared his cute plans for the next few months, joked about the royal wedding, and talked more about the victory dance he mentioned in his acceptance speech.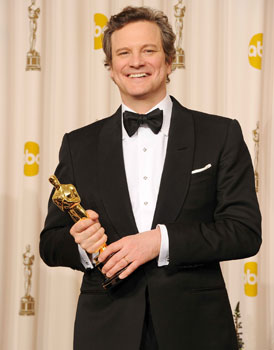 On whether or not he'll be invited to the royal wedding: "As I understand it, the invitations have already gone out. Mine's almost definitely lost in the post somewhere, so I'll be working on tracing it."
On his post-award season plans: "I've started having fantasies about what I'll do. I think I'm going to cook a lot. I don't think I'm particularly good at it but I'm going to inflict my cooking on anybody within range, but I tend to find that's a very good way to decompress. I'll probably be the only one eating it but that's what I'm going to do."
On the message of The King's Speech: "I don't believe in messages in what I do. I don't think we're preachers. I don't think we're philosophers. What has struck me is the emotional response to it seems to be very, very personal. It's quite diverse. Quite obviously speech therapists and people who have difficulties with their speech of whatever kind, have responded to it, and that is very powerful to me to be on the receiving end of that kind of feedback because what we do is very often, it's justifiably judged as completely and utterly frivolous. I think frivolity is also very important. That's a whole other argument."
On the PG-13 cut of the film: "I don't support it, because I think the film has its integrity as it stands. I'm not someone who is casual about that kind of language. I take my children to see football games, soccer. And I wouldn't be able to, if I wanted to protect them from those kind of words at the expense of all else. I hate hearing that language around them, but I'm not going to deny them an experience of a live game. You know, it does distress me to, you know, to hear that language bawled in the ears of my kids. So I don't take that stuff lightly. But the context of this film could not be more edifying, more appropriate. It's not vicious. It's not to do insult or it's not in any of the context which might offend people, really."
On talking about his urge to dance during his acceptance speech: "I was struggling with contentment at that moment and I think I need some quality time alone. I don't think that this is the particular forum for it. Anyone who's seen Mamma Mia will know what I'm talking about.