Conor Oberst Talks To Paste Magazine About His New Album, Catholicism, Mortality and Other Religions
Atheist Conor Talks Catholicism And Christian References
You might know Conor Oberst better as Bright Eyes - the moniker under which he works alongside bandmate and producer Mike Mogis – but he's releasing his next album this month as himself, with the Mystic Valley Band. He chatted with Paste magazine's ed-in-chief Josh Jackson (not that one) about music, Mexico and religion.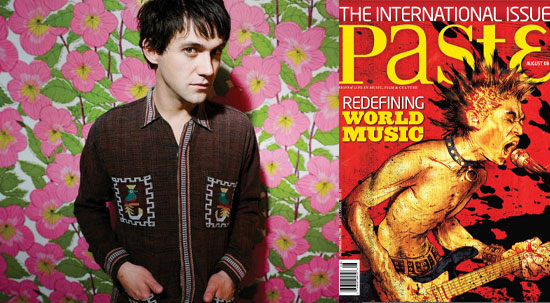 The religion discussion stemmed from Josh asking about the numerous identifiably Christian references he heard in Conor's music, which struck him as odd as the musician is an atheist – here's a few excerpts:
On the world's major religions: "Not that I'm an expert on all these religions, but what I know about all the other major religions kind of all just fall a little flat in their—I guess, just in their kind of narrowmindedness. I feel like there's something much more basic than what all these people are worried about. I find it really shocking that two groups that are, from an outsider's perspective, almost identical—you know, Shiites and Sunnis, or Catholics and Protestants—can actually kill each other over these minor details."
To read what Conor has to say about mortality, the quest for answers, and his Catholic family just read more
On mortality: "Well, I guess it's, to me, you know, pretty much commonsense. You can only really understand good if you have bad, so the idea of heaven or anything that happens for eternity, even if it's nice, I can't imagine it being nice forever. Even the idea of forever is kind of ridiculous, which is unfortunate because it's kind of a nice thing to say, you know. I think it softens the blow of mortality and having to say goodbye to everything you know and everyone you love and all that kind of thing. I think it's a nice concept, and I wish it made sense to me, but I guess it doesn't."
On the quest for answers: "I guess I'm just conflicted. I mean, I want to find something like that. Badly. But in all the forms where it's been offered to me, they seem fraudulent."
On growing up: "My family is Catholic. I went to a Catholic school, that kind of thing, so that was my childhood for sure."
Pick up August's Paste magazine for the rest of the interview, in which Conor speaks about recording his album in Mexico as well as much more. You can also hear Conor's fab self-titled album ahead of release at his website right now!