Dirty Sexy Money, Season 1, Episode 4 "The Chiavennasca"
Pop Watch: Dirty Sexy Money, Ep 4 "The Chiavennasca"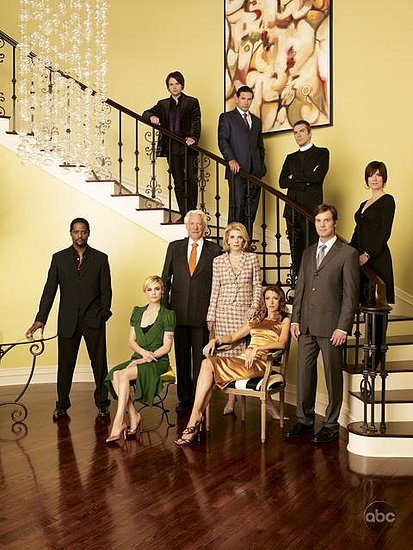 Nick broke out of New York and joined us in Europe (more specifically, Italy) in last night's installment of Dirty Sexy Money. He hopped across the pond to investigate his father's plane crash further, in the guise of picking up some wine for the Darlings. Of course this was nowhere near all that happened, so here are some of my thoughts on the episode:


Tripp and Letitia were dealing with the fall out of her admission to the affair with Dutch, Nick's father. The big question is are all of their children Tripp's? Or does Nick have a half-sister or brother he doesn't know about? Ever-resourceful, Tripp gets the family doctor to look into it.
Nick asks Tripp who the C in his father's diary might be, and Tripp refers him to a private investigator named Harold Templeton, who was a spy in 60s, and is currently in hiding in a vineyard in Italy. So Nick's off to Italy to meet him.
Loved the massive video screen Natalie and Jeremy used to talk to each other. Also loved Jeremy's wide-eyed excitement about going to 'Bar Gnome' and buying a little red hat until Natalie told him it's Bar Known, not gnome. Disappointing. Later on Juliet finally caught Natalie and Jeremy in the act and did not react well. These three make me laugh so much.
For more of my thoughts and to let me know what you thought of this week's episode, just read more
And so to more important things, like shoe-shopping: "Aren't those to die for? It's like they're made out of George Clooney..." Lisa bumps into Karen shoe-shopping and they share a love of the same shoes, $1200 shoes no less. Wow.
It made me chuckle that the Darlings' driver Clark is also their private jet pilot. Karen and Freddy completely gatecrashed Lisa and Nick's romantic work trip to Italy. And Karen proceeded to intrude in many ways, barging into their bedroom and joining them on their romantic dinner. I loved watching Nick's subtle reactions to Karen and Lisa as they slyly fought over him. By the time Nick got back from his meeting with the spy guy, the ladies were drunk. Oh so drunk. And Karen then told a shocked Lisa that Nick proposed to her when they were nineteen. Freddy's reaction: "God, you are a bitch sometimes." Karen: "I know, it's a problem." Tres amusant! But - poor Lisa.
Nick meets up with Templeton again, who tells him that Dutch asked him to compile files on both Simon Elder and Tripp Darling and that led the PI to believe he was working for someone else. Interesting. Nick then told Tripp that info, was that wise?
At Brian's house there's still a few teething troubles with 'Gustav' (aka Brian Jr) – he's being bullied by a girl at school. Ever the holy man, Brian encourages him to fight back. Brian Jr showed he'd learned from his Daddy when he blackmailed Brian into sorting out the bully for him – he basically told her that if she doesn't leave 'Gustav' alone she'll burn in hell. Such a good man of God.
So, Natalie's pregnant. That certainly came a little out of the blue to me... could she be using it as a bargaining tool to keep Jeremy as her own?
And right at the end we found out that C is Simon Elder, as he has a C on his licence plate. Dun dun duuuunnnn.
So what did you think of this episode? Are you loving the scandalous world of the Darlings as much as I am? I can't wait to hear your thoughts!
Images courtesy of ABC.com